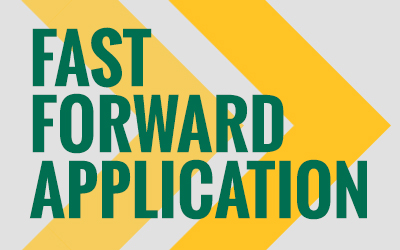 Did November 15 sneak up on you? We hope not, but if it did, we have good news. We've extended the deadline for Siena College's Fast Forward application to January 5.
While our Admissions officers treat applicants who use the Common Application and the Fast Forward application equally, we have to admit: the latter is pretty great. Here are some reasons you may want to consider completing the Fast Forward application:
You can share something you're already proud of. Are you feeling overwhelmed by the admissions essay requirement? Would you rather show off a graded paper that represents your best work? Just submit the original or a copy of that assignment to Admissions. Keep in mind it should be from a history or English class, and it can be from your junior or senior year.
It's non-binding. The Fast Forward application is similar to opting for Early Action. If you are accepted into Siena College, you do not have to commit until the deposit due date, May 1.
We won't keep you waiting. Once your application is received (including your official high school transcript, SAT reasoning test or ACT test scores, an essay or graded paper, and a recommendation from a school counselor) you will receive notification of your status within seven to ten business days. This is a big plus, considering regular admissions decisions will not be mailed out until March 15.
There's no application fee. That's right; submitting a Fast Forward application will cost you zilch.
If Siena College is on your list of top colleges, don't waste any more time! Consider using our Fast Forward application to save time and money, and find out our decision in just one week.
Click here to apply now using Siena's Fast Forward application.