In case you haven't heard, internships are the ultimate return on investment for the college student. So it made perfect sense to us to have someone on campus dedicated to internships—eating, breathing and sleeping internships. Meet Alicia Pepe.
As Director of Internships, Alicia helps students get real-world experience in whichever field of study they're pursuing. Curious about how it all works? Check out our Q&A with her below.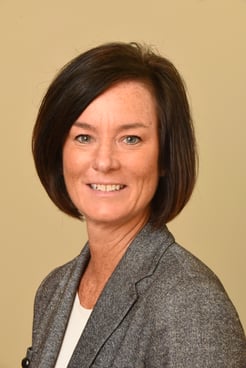 What makes it so important to have a dedicated person in charge of internships? Can you tell us a little about your position?
There is more and more data supporting the notion that internships position a student well within the job market, and provide those first time job-seekers with an advantage over those that do not complete internships.
I belong to the National Association of Colleges and Employers (NACE) and from an April 5 article entitled Employers Prefer Candidates with Work Experience, "nearly 91 percent of employers responding to NACE's Job Outlook 2017 survey prefer that their candidates have work experience, and 65 percent of the total group indicate that they prefer their candidates to have relevant work experience." So internships become a vehicle to set oneself apart from the rest of the pack! As a result, many colleges and universities recognize that it is beneficial to have a dedicated internship resource on campus.
I also work with employers to navigate the internship process here at Siena, assist them in marketing their respective internships and seek to find new internships sites and opportunities for our students. But the student is really at the center of the internship focus.
Do you plan on meeting with every student at Siena?
I'd love to meet with every student at Siena interested in doing an internship!
It's all about educating them on the benefits and encouraging them to start their internship quest early. So many students and parents think that internships are a conversation for junior year, but it is important to begin planning during freshman and sophomore year. The Career Education and Professional Development staff and I work closely to ensure students are aware of internship opportunities, and are prepared for the application process through resume writing and interview prep. I also visit classes to speak about internships, hold a Student Internship Panel once a semester where students share their internship experiences and have daily office hours where students can make an appointment to have an individualized conversation. We make sure no one slips through the cracks!
Why is interning so critical for college students?
It helps them get jobs!
It also provides students an opportunity to explore a particular career path. Sometimes students will come to me at the end of the experience and tell me it just wasn't what they were expecting, and they are not sure they want to pursue it as a career. And that's OK! There is value in finding that out NOW. So we redirect efforts and help them find an internship in a field they do like!
What are some places where Saints intern?
The list is sooo long! On our website (which I am in the process of updating) there is a list of companies where students have interned.
But since my arrival in November we've added some other great internship opportunities, Ellis Medicine being one of those sites. Since my office is located in The Stack Center for Innovation and Entrepreneurship, we've also been able to create unique opportunities with some very cool start-up companies!
What do you want prospective students (and their parents) to know about what they can expect regarding internships if they choose Siena?
Internships are a valuable component to the learning experience, which give students a competitive advantage. Siena has several different internship opportunities both on and off campus, which span all three schools. Whether you are a science, business or liberal arts student, Siena has an internship opportunity for you
There are also a number of resources on campus that will assist the student in finding an internship. In addition, the alumni network here at Siena is incredible! We have partnered with many to offer unique experiences all over the world.
Interested in what kinds of internship opportunities might be available to you? Get in touch! This is one of our favorite things to talk about.