One of the most honorable careers out there today is that of a nurse. Good nurses work hard and touch thousands of lives—and as the demand for healthcare services increases, nurses are expected to know more and do more with each passing year. That's why the job outlook for registered nurses is so bright, with employment projected to grow 16 percent by 2024. Is this the field where you belong? Fantastic news: you can now get started at Siena.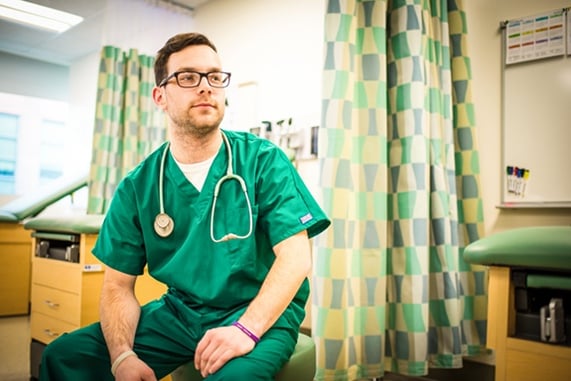 We're thrilled to announce we now offer a Dual-Degree Nursing Program for undergraduate students through Siena's Baldwin Nursing Program and Ellis Medicine's Belanger School of Nursing. At a time when there's a big national push for nurses to earn their bachelor's degree, we expect this to be a pretty popular program.
Check out a few highlights:
Through this one program, you'll earn two degrees in four years—an associate's and bachelor's in nursing.
After your first year at Siena taking core courses in preparation for your nursing classes, you'll spend years two and three on both the Belanger campus and the Siena campus as a fully immersed Saint.
By the end of junior year, you'll have earned your associate's degree and will be eligible to sit for your licensure exam. (You might even begin working part-time as an RN!) Next step: earning your bachelor's degree in year four.
Our unique Caring Science Curriculum was designed to teach you how to care for others and for yourself, a balance that's essential to becoming a compassionate practitioner.
Like with all of our majors, you'll enjoy small classes and personal attention from start to finish. Developing meaningful face-to-face relationships is something that's very important to our faculty and staff, which you'll quickly see from day one.
By the time you graduate, you'll be ready to work in countless healthcare settings—hospitals, public health agencies, outpatient facilities, community organizations and more. You might also choose to continue your studies and work towards advanced practice nursing (APRN) roles like nurse practitioner. The choice is yours!
We cannot wait to get our new Dual-Degree Nursing Program underway and continue to prove what we already know is true: the best nurses are Saints. To learn more, we encourage you to visit. Meet with the director of the nursing program, tour the nursing facilities, roam around our beautiful campus in Loudonville, NY and find out what it means to be a Siena student. See you soon?