Take a few moments to think about your interest in volunteer work. If leading community change through service is always top of mind—something that matters more to you than a lot of other commitments in your life—then you should know about Siena College's Bonner program.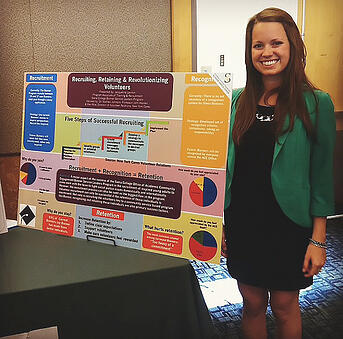 A four-year program that provides undergraduate students the opportunity to combine service with academics, the Bonner Service Leaders program places each student at a partner organization where they can move through levels of responsibilities during their college career, giving back and focusing on social justice issues while still pursuing their degree back on campus. Siena is only one of two colleges in New York with this program—and we're pretty proud of that! You can learn more about it here, and below.
Here's a Q&A with one of our Siena alums, Jacqueline Lennon '13, who was a Bonner Service Leader and majored in marketing. Read about her experience and thoughts on Bonner, and if it all sounds good to you, consider applying to the program ASAP.
Why was enrolling in the Bonner Service Leaders program a good choice for you as a Siena student?
Bonner opened more doors for me than I could have ever imagined when I applied for the program as a high school senior. I developed personally and professionally over my four years in the program. I entered Siena as a timid freshman with no direction for what I wanted to do in life. Bonner gave me the tools and the support to figure out who I wanted to be as a student and a person. Out of all the choices I have made in life, Bonner is definitely the best one to date. My fellow Bonners, mentors and supervisors created an experience for me to learn more about the world outside of Siena and prepared me to enter the 'real world' head on with no hesitation. I truly could not picture my Siena experience or life now without the Bonner program.
Where are you now?
I am currently a Program Manager at New York Cares, New York City's largest volunteer management organization. I plan high-quality volunteer service programs that serve the aging population at New York non-profit organizations.
How has the Bonner program contributed to your success as a post-grad?
I owe everything I have accomplished thus far to the Bonner program at Siena. First of all, I would not have known about the full-time career opportunities in the volunteerism and social justice fields without the guidance of Dr. Matthew Johnson. I could write a thousand-page book about the things he has opened my eyes to. More specifically, he introduced me to New York Cares as an opportunity to continue to make a difference after graduation. As a Bonner, I learned the power of persistence and passion, and made sure that New York Cares saw me as a good fit for this role.
Outside of the personal mentoring I received (and continue to receive) from the ACE directors, the weekly trainings, service placements and multiple opportunities to step out of my comfort zone as a Bonner prepared me to take on just about anything that my current role throws at me.
What skills did Bonner equip you with to be able to handle the real world?
Leadership, patience, perseverance, hard work ethic, confidence and passion. I learned all of these things and more as a Bonner. The number one thing is confidence. As I said, I was a nervous, shy freshman when I started at Siena. Bonner taught me to believe in myself and believe that I can make an impact. I learned to speak my mind, advocate for others, use my skills to implement change and lead others around me to do the same.
Thanks, Jacqueline!