At Siena, our close-knit community doesn't end after graduation. In fact, we love staying in touch with our thousands of alumni who constantly impress us with their achievements. This month we caught up with Matt Phelps '02, who took his English degree to a level that may surprise you...by opening up a gym. Find out how his Siena education and values strongly influence his growing business.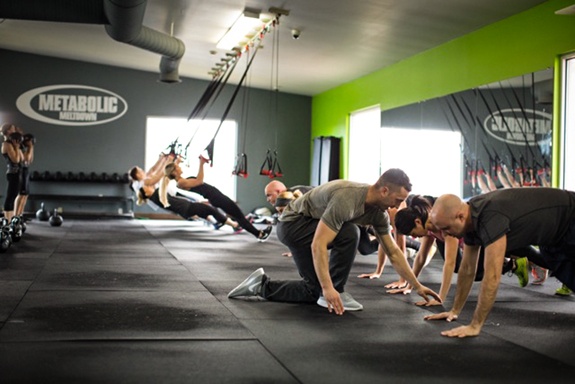 But first, a little background: In 2008, Matt founded Metabolic Meltdown, a private gym that offers a very unique class format combining strength, cardio and core training. As owner and CEO, he not only loves what he does, but he continually emphasizes Siena's community as an unparalleled guide to success.
So you have three Metabolic Meltdown locations and over 1,200 clients. Can you tell us briefly about your role, and what do you love about what you do?
Matt: My background was in collegiate strength and conditioning, and what separates us from our competitors is integrating techniques and exercises I used with past clients. Workouts are 45 minutes and always changing, attracting a wide array of clients from college students to professionals. I am lucky that I have an incredible support team to help me operate the business side of things, so I can focus on ensuring our program is the best around. I design the programming for our classes, train/develop our staff, implement a corporate growth plan, approve major business decisions and oversee day-to-day operations. I love helping people and still find that to be the most fulfilling part of what we do. Metabolic Meltdown changes bodies, but more importantly, it changes lives, and that is what motivates me to make our brand the best it can be.
At Siena, you actually got a degree in English! Tell us about why you chose that major, and if it connects at all to what you're doing now. Did you ever think you'd be an entrepreneur when you were in college?
Matt: Yes, I was an English major at Siena and it has actually served me very well! I have always enjoyed writing, and the ability to communicate with others both verbally and through the written word is paramount to success in any business endeavor. I never really planned on being an entrepreneur. In fact, at Siena I strongly considered going to law school, or becoming a high school English teacher. Looking back on it, I had always exhibited entrepreneurial tendencies as a kid, and it is really nice to be able to combine that intrinsic drive with the skills I developed as an English major at Siena.
How did Siena help prepare you for where you are today?
Matt: Siena prepared me to get to this point in so many different ways, but mainly, Siena taught me about the power of community. Siena has such a unique community of like-minded students that are all bonded by the common goal of going through the college experience. I can distinctly remember that for the first time in my life, I felt like I was a part of something, and that feeling was incredible. I was challenged academically, forged a bond with friends that will last a lifetime and truly learned what the word "community" means. I have to attribute the strong emphasis that I place on community at Metabolic Meltdown to my experience at Siena College.

Do you remember what led you to choose Siena in the first place?
Matt: I actually transferred into Siena midway through my freshman year not knowing if I would stay. It took me all of about one week to fall in love with the college and everything it had to offer. I am so glad I chose Siena, and would repeat the decision over and over again. The attention I received from my professors, the friends that I made and the memories that I have are truly invaluable to me now.
Any advice for prospective students considering Siena?
Matt: I would say that while there are a lot of amazing colleges and universities out there to choose from, Siena is really second to none when you factor in the complete package of the quality of education, the friendships you will create and the life lessons you will receive. I could not recommend Siena enough to any prospective student, and my best advice would be to accept the offer of admission!
What's next for Metabolic Meltdown?
Matt: Right now we have three locations and we plan to open a fourth in 2017. We have the ultimate goal of being a national brand, and I am confident that with continued hard work and the team I have assembled, we will most certainly get there!
Thanks, Matt! We wish you all the success with your new location.
Ready to see what it's like to join the Siena community for yourself? We want to hear from you!