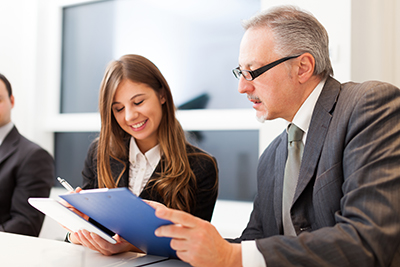 Ask any employer about what they look for on recent grads' resumes, and they'll likely tell you that internships rank high, really high. After all, internships give students hands-on, real world, beyond-the-classroom experiences that prepare them for full-time jobs. In addition, students often develop relationships with mentors at internships and learn valuable workplace lessons they can carry with them for the rest of their careers. Can't beat that, right? So, as you choose where to matriculate, be sure to inquire about internship placements. As the Assistant Director for Employer Relations here at Siena College's Career Center, I can say without a doubt that Siena is pretty exceptional in this arena.
Take a look at the list below of internship sites where our students are consistently hired. See somewhere that sounds interesting? Better start that application now…(And below the list, check out a few quotes from various recruiters that were sent to my team. You can see just how valued and prepared Siena students are!)
List of internship sites:
Albany Medical Center

Audubon International

The Ayco Company, L.P.

Enterprise Rent-A-Car

Ernst & Young

GE Information Systems

Georgia Pacific

KPMG, LLP

Living Resources

NASA

New York State Assembly

New York State Education Department

The Nielsen Company

Pitney Bowes

PricewaterhouseCoopers, LLP

Proctors

Regeneron Pharmaceuticals

SEMATECH

Target

Travelers

WAMC Public Radio

UHY LLP

W.B. Mason

Wildwood Programs
The internship site: Target
"As a Recruiter with Target, we are always looking to find leaders who have a passion to succeed. With the variety of backgrounds students at Siena College have, we have been pleased with the level of talent your students possess. Siena students come well-prepared, are professional, and exude excellent levels of engagement, which allows them to flourish in the innovative atmosphere at Target. It has been a pleasure working with the Siena Career Services Center. You all truly do an exceptional job preparing students for life after college. Not to mention, you are very receptive to employers' ideas and allow many avenues for us to interact with the students at your school!"
The internship site: Living Resources
"They (Siena interns) have really jumped right into the classes and helped students develop projects, which we love to see. They have also had the opportunities to attend some of the student's annual meetings with us, and have done some auditing of our documents. The interns carried such a professional demeanor and etiquette through their time with us, and were willing and eager to learn from the unique experiences our program offers. It is not always easy to come into our classroom and work with people with disabilities, especially if you have little previous experience with the population. They jumped right into the environment, and really built meaningful relationships with our students. I can't express enough what a pleasure it has been to have them. It makes me so proud to see Siena students doing such great work."
Learn more about the internship opportunities available at Siena here.