Successful Saints are sprinkled across the U.S. (Try saying that five times fast...) Attorneys, account executives, CEOs, interior designers, editors, medical directors, producers and more are making names for themselves in big cities, small towns and everywhere in between. Want some specifics about your potential alumni network?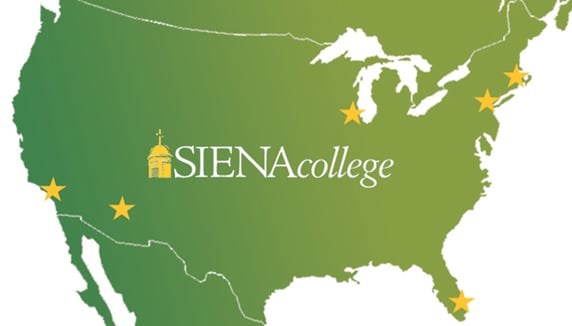 Since we're always naming the names you know well (Google, ESPN, Deloitte and so on), we thought we'd shake things up and list a few other awesome places where you'll find a Siena student, according to our LinkedIn search. Google any companies you haven't heard of to learn more, and perhaps, picture yourself there one day too. Here's where you'll find Saints...
In the greater Boston area...
Santander Bank, N.A., Putnam Investments, Wynn & Wynn, P.C., Orangetheory Fitness Concord, Boston Park Plaza, Propel Marketing
In the greater Los Angeles area...
Global Brands Group, Urban Whale Promotions, DecisionQuest, NuContext Creative, Inc., Win Good Marketing LLC, Mountain West Financial
In the greater NYC area...
Brooklyn Nets, Ralph Lauren, BOND New York, Epsilon, FULLBEAUTY Brands, MODI Media, Datadog, Yelp, Siegel+Gale, Spike TV
In the Phoenix, Arizona area...
Creatacor Exhibits and Displays, Inc., Arizona Attorney Magazine, LMK Interiors, Petti and Briones,US Department of Homeland Security, INC Research
In the Miami/Fort Lauderdale area...
GCI Worldwide Corporation, Ben-zion Group, Insight Television Productions, OAI Visual Branding, US Treasury Department, Miami Law Innocence Clinic
In the greater Chicago area...
Orbitz Worldwide, ExxonMobil, Protiviti, 20spokes, Neota Logic Inc, AbbVie, Autotask, Park Hyatt Chicago
...And that's just a sampling.
Eager to tap into our successful and loyal alumni network? Only one way to get started: submit your application to Siena if you haven't already. Or, if you're not yet a senior, request more info about us now.