At some point in your journey to Siena, you'll have a choice to make: live here or elsewhere? ‭First things first. Every student, regardless of where he or she lives, will always feel welcome, safe, respected and at home on our campus. It's the Siena way.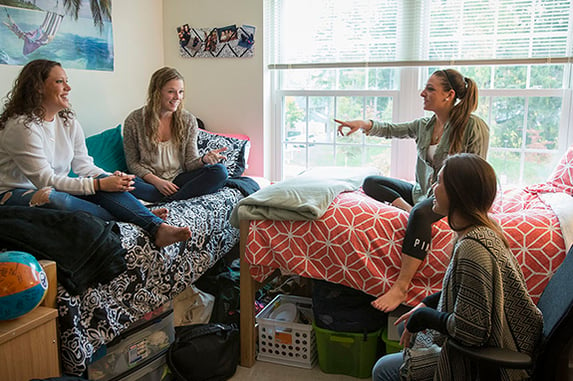 ‭That said, we really believe that living here makes it easier to fully immerse yourself in college life, focus on your studies and absorb all that Siena has to offer. So if it were up to us, we'd be handing you a key, showing you to your dorm room and meeting you later for some serious ‭foosball action. But it's a decision for you and your family ‭to make—so here's what you need to know. At Siena, our doors are always open.
10 reasons to live on campus
A Sense of Belonging. Siena's close-knit community is arguably one of our biggest appeals. But to make the most of it, to really feel connected, nothing ‭compares to living alongside your peers as a 24/7 Saint. In fact, over 80% of Saints reported that living on campus helps them create a sense of belonging.


Daily Convenience. Computer labs, the library, campus eateries, health services, athletic facilities—with everything you need steps away from where you sleep, life is a lot easier. And if you ever forget anything—a notebook, change of clothes, homework—you can grab it in a flash.


Better Balance. The majority of Saints surveyed say living on campus assists with balancing their daily lives. Imagine not having to spend part of your day finding parking spots and dealing with traffic. Living here, you can balance work and play with a schedule that works for you.


Cost-Effective. While you and your family may think ‭commuting saves money, the costs of gas, tolls, parking and maintenance add up. On-campus students can instead grab a Zipcar, bus, Uber or Lyft when they're on the go—and remember, financial aid awards help cover the cost of living on campus.


Interpersonal Skills. Living with roommates develops top-notch interpersonal skills that will come in handy in any job later in life. For example, nearly 91% of Saints report that living on campus helps them respect other students, and a majority say it enhances cooperation with others.


Problem-Solving Skills. Relay this to your parents: ‭83% of students say living on campus enhanced their problem-solving skills too, and we believe it. To keep the peace in any shared ‭living space, you'll quickly learn how to turn problems into solutions and work as a team.


Independence + Support. Living apart from your family encourages you to manage your own time, make decisions and take care of yourself. That said, rest assured that every community is staffed with Resident Assistants, a Residence Director and Friars in Residence. Our Community Living and ‭Public Safety staff are here to help too.


Residence Hall Opportunities. One of the hallmarks of a Siena education is service. As a Siena student living on campus, ‭you could become involved in the Residence Hall Association & Hall Council, serving on the governing board or planning activities for residential students.


Social Events. Commuters and resident students alike are invited to participate in campus programming like game shows, dance parties, Siena Fest and more. But when you're always on campus, it's much easier to hear about these events, remember when ‭they're happening and head on over.


Lifelong Friendships
‭During all the Netflix marathons, late-night pizza sessions, Ping-Pong games and other res life activities is when bonds are made, laughs are shared and lasting friendships are formed. Ask any resident ‭student; we'd venture to guess these friendships are priceless.
Of course, none of this means much unless you've seen our campus in person—not once, but two or three times. Check out our upcoming events, and register for one ASAP!