Are your summers defined by the awesome concerts you attend, ice cream cones you consume and the number of personal records you break on your 5K time? If so, the Capital Region will be your next favorite destination. Whether you're joining us for a tour or one of our Siena Summer Days (more on those coming soon), plan on making a weekend of it... because once you're here, you won't want to leave anytime soon.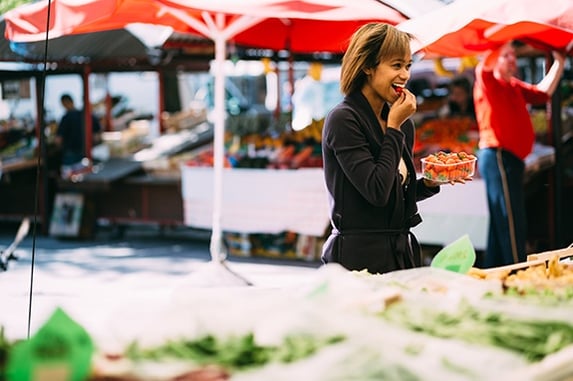 Here's just a sampling of what you can do in our area this time of year:
1. Lots of mini golf. With a simple "Siri" search, you'll find lots of courses nearby, but if you're looking for an all-in-one fun spot, All 4 Fun in Latham is the place to go. Play an inexpensive round of mini golf, take a go-kart for a few laps around the track or practice your swing in the batting cages. Afterward, you can cool down with a scoop from Control Tower Restaurant and Ice Cream right next door.

2. Listen to live music. Alive at Five and Rockin' on the River host the area's signature summer concerts, drawing big-name artists from around the Capital Region and beyond. Catch the free concerts every Wednesday night at Riverfront Park in Downtown Troy, or every Thursday night at Tricentennial Park in Albany. (Click the links above to see who's performing and when.)
3. Root for the home team. The Tri-City ValleyCats kick off their minor league baseball season this month at Joseph L. Bruno Stadium (also called "The Joe"), in Troy. From post-game fireworks shows, superheroes night and 50-cent hot dog night, there are tons of cool promotions and giveaways to participate in. Find out if the 'Cats will be playing on home turf during your visit.
4. Shop at Troy Farmer's Market. Start a Saturday morning off right at the Troy Waterfront Farmer's Market, where more than 80 local chefs, bakers and artists put their best (and tastiest) creations on display. Live music, fun activities and a view of the Hudson River all included.
5. Run for a cause. Every summer, hundreds of runners and walkers come to our area to participate in or be spectators at some very popular races. While the 38th Freihofer's Run—voted one of the seven "must-do" 5K races in the U.S.—just passed, there are plenty of other opportunities to lace up or show up. How does Albany's Color Vibe 5K, coming up on June 18, sound?
6. Visit Saratoga Racetrack. A day spent at "the track," as we call it, is a favorite summertime activity for out-of-towners and Capital Region natives alike. Just 45 minutes from our campus, head north to Saratoga to watch a few horse races, treat yourself to a juicy burger from Shake Shack or open your family's eyes to their very first polo match. Opening day is scheduled for July 22!
7. Climb Corning Tower's Observation Deck. Rain in the forecast? You won't need an umbrella on the 42nd floor of the Corning Tower, the tallest building in the state outside of New York City. Your view from the Tower will span the Hudson River Valley, the Adirondacks, the Catskills and the Berkshires.
8. Play. Whether you're bringing your younger siblings along or just want to let your inner "kid" loose, Huck Finn's Playland is a local amusement park with rides that will have you reliving your younger days. (All these years later, the Scrambler is still a good time.) Plus, the Playland has a pretty remarkable history. Read about it here.
Like we said, you'll want to stay awhile. Next stop: Siena College.