You might not have to! At least not for Siena. We get it: adding college visits and application deadlines to the start of a new school year can have anyone feeling crunched for free time. The good news is, with a previously graded paper, you could be closer to completing your application to Siena than you think.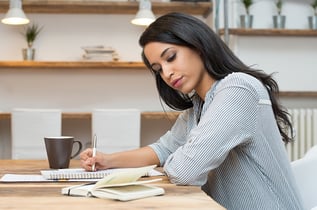 If you've already written a class paper you're especially proud of—specifically for an English or history class—and haven't yet started an original application essay, this option could be for you.
Submitting a graded paper in place of a personal essay means you can...
...save time in the application process.
...feel confident in the quality of your work.
...show us the effort you put forth in high school.
...and stress less about getting a lot done in a short amount of time.
Go ahead and send the original, with comments and the grade, or a copy (whichever is more convenient). And we're not just looking for A+ work. Of course, we like to see great grades, but any piece of writing where you elegantly communicate your thoughts, use proper grammar and clearly convey your interest in a topic can give our admissions team a sense of your candidacy as a student.
Already have a paper in mind? Get started on the rest of your application!