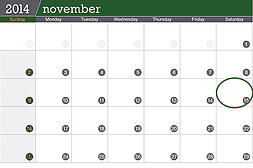 Is Siena College currently at the top of your "apply to" list? We hope so, and we hope you'll consider applying early for admission. Think about it: you could find out within weeks if you'll be a part of Siena's class of 2019, and you wouldn't have to worry about college applications the rest of your senior year. So if your application is in top-notch shape, here is the first round of deadlines:
November 15: Fast Forward/Early Action (non-binding, notification within one week of completion, must deposit by May 1)
December 1: Early Decision (binding, must deposit by March 1)
You can apply with Siena's Fast Forward application or use the Common Application, and all you need on top of that is your official high school transcript, your official SAT Reasoning Test or ACT scores, an essay or graded paper, and a school counselor recommendation. Start your application now, if you haven't already. We look forward to reviewing it!