Did you know that one-third of Fortune 1000 CEOs have Liberal Arts degrees? Whether you're a potential applicant or a soon-to-be Saint, at Siena's School of Liberal Arts—the largest and most diverse of the College's three schools—you'll become the type of well-rounded learner that could go on to become an account manager at Google, a chef/restaurant owner, production coordinator at MTV or the CEO of Dish network (just to name a few of your options). If you think our School of Liberal Arts is where you belong, here are a few random fast facts you might like to know.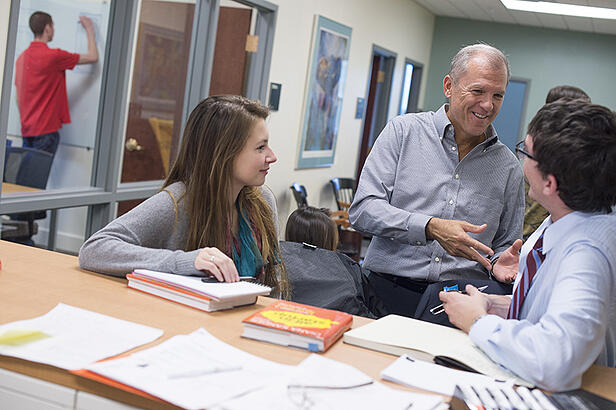 > Not positive what you'd like to major in? Half of the freshmen enrolled in the School of Liberal Arts start out as undecided. Better yet, 97 percent of recent graduates who started out as undecided were hired at their first full-time job within one year after graduating.
> The Dean of the School of Liberal Arts, James C. Harrison, served in the navy as a combat helicopter pilot from 1967 to 1972. Here's what he loves about Siena: "Siena College represents all of the positives in post-secondary education. It is a small Liberal Arts college that provides personal interaction with the students. Having been at Siena for 34 years and done all my collegiate work at large, state-run universities, I have come to appreciate the quality and depth of education; however, this is only half of the equation for success—the other part is the students who make this college rich."
> Students in the School of Liberal Arts can choose a major from within twelve diverse departments, including English, political science, history and psychology.
> Through a newly added Travel and Tourism course, professor Kevin Jack (Chief of the Bureau of Labor Market Information with the NYS Department of Labor), has been teaching students to understand travel through economic and marketing standpoints. This semester, the students' final projects will be to analyze Albany's marketing techniques and compare the region to other popular tourist destinations.
> The skills that Liberal Arts students learn, such as problem solving, critical thinking, ethical reasoning and effective communication, are some of the most sought after by employers.
> All Siena students, regardless of which school they enroll in, are required to take 14 courses in the Liberal Arts.
> The departments in the School of Liberal Arts are on social media! Follow American Studies or History on Twitter, or connect with the Spanish, Political Science, Psychology or Social Work programs on Facebook.
> Political Science professor, Jack Collens, had his research on the death penalty and media coverage published in State Politics & Policy Quarterly. (This is just one example of how extensively experienced and involved our professors are in their fields.)
> The interdisciplinary nature of Liberal Arts allows students to combine their interests through minors, certificate programs and internship opportunities. (Read about Andrew Lang's unique internship experience here.)
> Many of Siena's Liberal Arts students are acknowledged or awarded for their work as undergraduate students. Alicia Munian '15, a Political Science major, was selected to present her senior thesis at the National Conference on Undergraduate Research. And Sociology major, Delaney Rives '15, was featured on MSNBC's website, Women in Politics: College Edition, for her advocacy on behalf of women's rights.
Looking for more information on the School of Liberal Arts? Read about it here.