College students in Florida are usually described as studying in a vacation spot. But if you ask any student in the Northeast what it's like to live and go to school up here, they'll tell you they love their four seasons. How could you not? In the fall in particular, Upstate New York is a destination for those who want to marvel at fall foliage and enjoy fun autumnal activities. For Siena students, this is part of life during the fall semester. Here are five of our favorite things to do around here this time of year.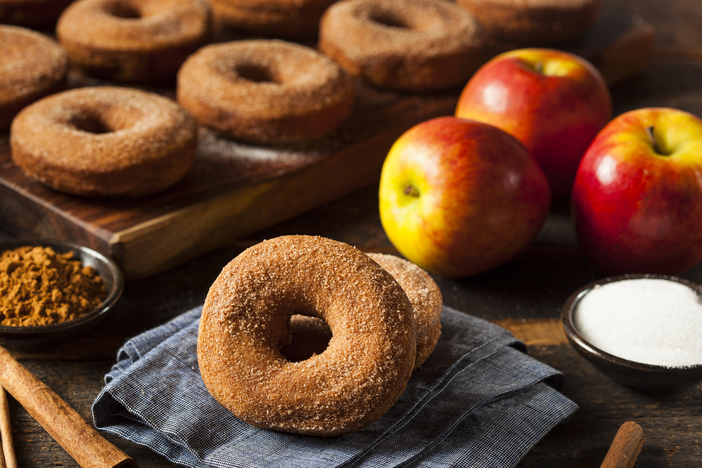 1) Apple picking
Our area is sprawling with local farms that open themselves up to the public for apple picking (some offer pick-your-own raspberries, tomatoes, and pumpkins, too!). It not only gives us good exercise and a batch of fresh Fujis to nosh on around campus, hitting up farms gives us a good excuse to sample an upstate NY specialty: cider donuts*, usually sold right there, too. (Visiting soon? Indian Ladder Farms, Goold Orchards and Altamont Orchards are popular options, if you want a literal taste of life at Siena.)

2) Outdoor events
On two different Fridays each month, the local cities of Troy and Albany host "Night Out" events where stores stay open late, food trucks pull in, art galleries display new collections and offer free refreshments, and live bands play. There are other popular events every fall, too, including "Larkfest" on Albany's vibrant Lark Street and "Oktoberfest" sponsored by Wolff's Biergarten, a German soccer bar/restaurant popular among college students and the recent graduate set.

3) Hiking
The Capital District has beautiful fall foliage and trails for hikers of all ability levels to get the best views of the exploding colors. Thatcher Park offers both trails and a paved scenic overlook (an option for those who want the view but don't want to leave the car and muddy their boots). Peebles Island has pleasant walking paths and Vroman's Nose is a slightly more challenging but worthwhile hike.

4) Haunted tours and hayrides
Think our Capitol Building might be haunted? Take one of the ghost tours that are open to the public and find out. For those who didn't get their fill of the farms during apple picking, there are many after-hours haunted hayrides promising lots of screams. And, if you're up for about an hour drive, you can get to Headless Horseman Hayrides and Haunted Houses—as seen on The Today Show.

5) Yard sales and estate sales
After you settle in here, you might find there are things you still need for your dorm room—or perhaps Pinterest will inspire you to try a DIY project. Yard sales are big this time of year. Go early, always bring a buddy (and cash)… and be prepared to save a fortune compared to what you might have spent at a national store. Estate sales abound now, too, in case you're interested in checking out some beautiful local residential architecture.

*Wondering what a cider donut is? It's time to make the drive here, ASAP.