Whether you're fascinated by American politics and public law or just want to see Siena from a new perspective, one of our very own political science majors can help. Even though her grandfather and aunt were both Siena students, Kaitlyn Krolik says she would've ended up here no matter what. Here are just five reasons why.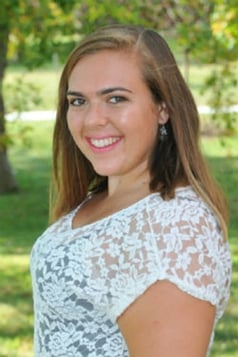 Kaitlyn Krolik '16, from Webster, NY, entered Siena as a creative arts and history major before switching to political science.
1. "New York's Capital Region: Siena's location (just outside the capital of New York), is a huge benefit for students. From classes that highlight what's happening at the Capital to participating firsthand in local rallies, Albany is a playground for those that are interested in engaging with the area's events—political science major or not."
2. "Internships: Again, Siena's proximity to Albany presents a number of for-credit internship opportunities, either with the government, lobbying groups or nonprofits. In addition, students have access to internships all across the country (or the world, for those studying abroad). So far, I've completed one internship with the New York State Senate and another at the White House!"
3. "Faculty: The political science faculty cover a wide range of specialties and are so well-versed in their fields. They're always accessible and really personable (they know me by name!), so I can talk to them about my present, my future and any questions I might have. Those kinds of relationships are definitely going to be helpful as I progress."
4. "Relevance: Our school is small (think student-to-faculty ratio of 12:1 and an average class size of 21). What's great about that is the freedom our professors have to shape the coursework to reflect the ever-changing political atmosphere, both nationally and internationally."

5. "On-campus events: Siena's 80+ clubs and organizations work hard to plan interesting events for all students—especially political science majors. I've heard from speakers with experience in the political world and from some who were involved in politically 'hot' issues. I've even participated in the Model United Nations club and Mock Trial, which offer students the chance to apply what we're learning in the classroom to real-world scenarios, all while meeting other likeminded individuals."
Want more information on political science or any of the other programs offered at Siena? Just click the button below. We'd love to tell you more!