Didn't make it to Siena's Open House in October? No problem. We're holding another one on Sunday, November 6, which you can register for now. To give you an idea of what you can expect while you're here, we're doing something we don't normally do—revealing a few responses from the surveys parents and students took after our October event. Take a look!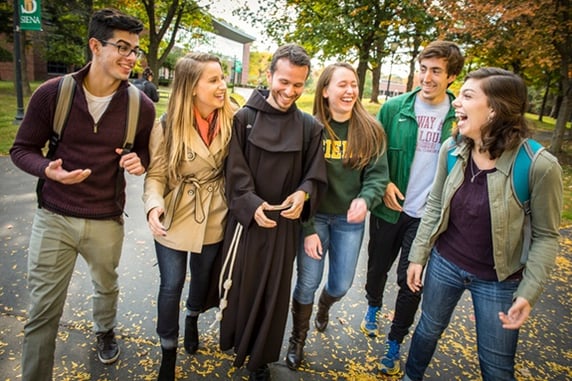 "The hands-on experience in the lab was outstanding."
"My daughter is undecided now and I think the liberal arts presentation was excellent. I know it helped her realize that she is not alone in not knowing what she wants to major in."
"The FAFSA workshop was extremely helpful. I'm ready submit mine!"
"Excellent presentation, and the volunteers were extremely friendly and knowledgeable. We had very little knowledge about Siena before we came in, even though we live in the neighborhood. Siena is at the top of the list."
"My daughter is a swimmer and would love to swim in college. We enjoyed talking to the girls on the swim team as they were having their pumpkin fundraiser."
"We were very happy with the day. Bernie, the students, the family atmosphere...they were all wonderful and exactly what we were hoping to see and experience."
"Loved our tour guide! She was very sweet and pleasant; she gave us a lot of information and answered all the questions we asked! We'll definitely be back for a second visit!"
"My son was ready to start and he is only a junior. The best college tour we have been to (we have gone to about five). From the entrance until the time we left, could not have asked for more."
"Our tour guide Dominick was AWESOME. He really did a nice job and answered all our questions. Eric in the exploring business session was also very informative."