It's easy to see why our admissions counselors love their jobs. Through compelling essays, interviews and informal visits, they get to hear about the most interesting aspects of prospective students' lives. Ever wanted to turn the tables around and find out what makes them unique, what their dreams are or what happened in middle school that they still vividly remember? Now's your chance.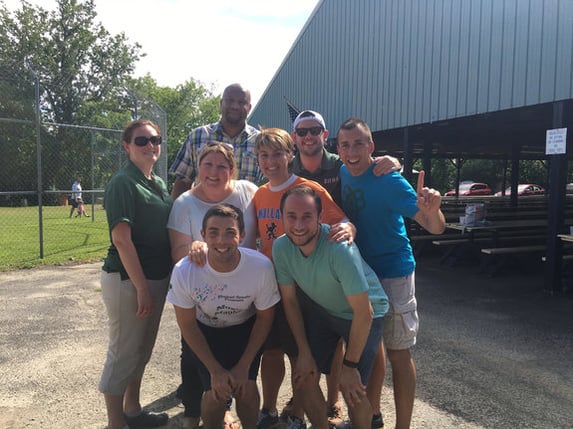 Here are some little-known facts about a few of Siena's admissions counselors—great conversation starters, should you end up meeting any of them! (Pictured here: Marie, Katie, Dale, Jen, Colin, Jim, Sean and Paul.)
-- Ever been to York, Maine? Jim Eaton is a frequent visitor. His in-laws actually have a place not far from the popular lighthouse.
-- Now you see Dale Taylor, now you don't. Dale has been practicing magic for over seven years. (And while he can't actually disappear, he is awesome at juggling!)
-- When you meet Katie Szalda, maybe don't ask her about the time she broke her nose while on a dunk tank in middle school. It's kind of a sore subject ;) Instead, bring up shopping and Michael Jackson. Two things she loves.
-- Marie Nocella has been to five of the seven continents, with Asia and Anarctica left to visit. Another of her travel goals: to visit all MLB ballparks. Take me out to the ballgame...
-- If Jen Sloan wasn't working in admissions, she'd be a professional lip syncer. Voted Class Clown in high school, she's also always wanted to be a contestant on The Price is Right.
-- Big fan of binge watching shows on Netflix? Nikki Hogan is. Her current obsessesions: Peaky Blinders, Bloodline and Nurse Jackie.
-- If you're a Star Trek fanatic, you'll like Sean McDonald. He has a massive collection of Star Trek memorabilia and has even attended Com Con dressed as Dr. Spock.
-- Soha Salamah has dual citizenship: Jordan and the U.S. And on a completely separate topic, one of her favorite foods: chickpeas, in any form.
-- Intrigued by Irish team sports? Bring up the topic with Paul Acosta, who plays on a Gaelic football team based right here in Albany. They've played against teams from Syracuse, Montreal, Ottawa, Fairfield, Hartford and New York City.
-- Charlieann Chacon, our resident bride-to-be, looooves breakfast. Especially at Cracker Barrel.
-- In addition to being a lifelong fan of the Buffalo Sabres, Colin O'Reilly is a bonafide stand-up comic. He's been performing since he was a senior at Siena, and continues to perform at all the new comedy clubs opening up in the Albany area.
Now that you know more about our quirky, fun-loving, literally magical admissions team, we'd love to know more about you. If you haven't already, arrange a visit to Siena this summer so we can chat in person.