For those just starting out on the college search, you'll find that one of the most exciting things about visiting campuses is meeting students who are just like you—and were in your shoes not too long ago. That's why we we love introducing our student ambassadors, who always want to share their Saint pride with prospective students. Up next...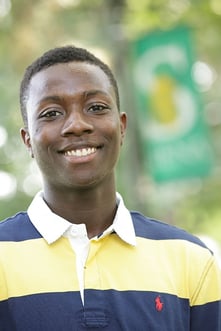 We chatted with Hanif Cropper '16. He's a Capital Region native who entered Siena as undecided, before deciding to major in history. In addition to being an enthusiastic and knowledgeable tour guide, Hanif has started two businesses, participated in several internships and will serve on the Student Events Board in the fall.
What was your first impression of Siena?
In high school, I took a tour of Siena with a group of students from the YMCA. I loved the small size and the fact that it has a lot of successful alumni.
What made you decide to major in history?
After taking course in both the School of Liberal Arts and the School of Science, I ultimately decided on history because it really includes every aspect of life. I think what I learn while majoring in history will help me throughout my career path.
Why did you want to become a student ambassador?
The Admissions staff at Siena is filled with loving and caring people; they helped me out the moment I started working for them. I wanted do more in the office and have more responsibilities, so I chose to become a student ambassador.
What is your favorite spot to show on campus?
The MAC. To me, it's the most relaxing place at Siena. Working out and playing basketball give me a sense of tranquility.
Finish this sentence: I knew Siena was right for me when...?
I learned about all the alumni success stories.
Finish this sentence: You know you're at Siena when...?
Everyone keeps the door open for you.
Can you tell us more about the two businesses you've started?
My first one was a website that sold sneakers, and my new project is a clothing company called Gray. I've been making modified clothes since I was 10 years old. The idea has been in the works for some months now, and it will be launched in the fall of 2015.
Do you have any advice for prospective students?
Stay proactive! Being proactive on campus helps me (and other students) stay on top of grades, network and meet new friends.

Now come meet Hanif!