Hopefully by now, you have a few college visits lined up in the coming weeks. It's truly the best way to whittle down your list, and this time of year is perfect for touring campuses. Especially Siena's. The fall weather is unbeatable, and you'll get to meet current students, professors and, of course, our awesome Student Ambassadors. Speaking of the latter, time to virtually meet another one.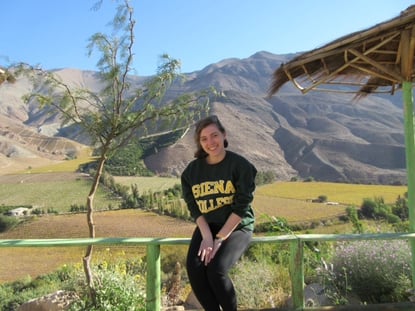 Say hi to Mary Tabatneck '16 from Wayne, NJ. A student in the biology/Albany Medical College program, Mary told us that the student she gave her very first tour to ended up attending Siena. She recognized him on campus and said hello. How cool is that? Here's some more about her:
Describe your first visit to Siena. What do you remember about your first tour, and what was your first impression of the campus?
On my first visit to Siena, I immediately felt at home. On my first tour, I remember talking to friars in the chapel and I remember everyone working on homework outside because it was a beautiful day. My first impression of the campus was that it was a very open and welcoming environment. Everyone seemed exceptionally friendly, which was the type of atmosphere that I was looking for in a college.
Why did you want to become an Ambassador?
In my personal experience, when I was a prospective student, the tours were the first thing my parents and I would talk about once we got back in the car from a college visit. The tours greatly influenced my opinion of the school, and as an Ambassador, I have the ability to share my passion and enthusiasm about Siena College with prospective students and their families. Siena has provided me with a unique opportunity to grow as an individual and to excel academically, and I love conveying these opportunities to prospective students.
What's the most interesting question you've been asked on a tour?
The most interesting question I've been asked on a tour is: "What did you do last weekend?" The answer was that I volunteered at Arbor Hill Elementary School with the club, Read for the Stars, to play educational after-school games with children. I also saw a movie that was playing on campus and I participated in Bingo (and won)!
Tell us something interesting about yourself that might surprise people.
I am very passionate about autism awareness, and I co-founded an Autism Awareness club on campus. I worked with autistic preschool children during my first-year seminar, and my desire to start the club grew from that experience.
Finish this sentence, I knew Siena was right for me when...?
I knew Siena was right for me when I recognized how beneficial it is to have small class sizes where I am not merely a number; I am a person who professors and students see potential in.
Finish this sentence: You know you're at Siena when...?
You know you're at Siena when professors you've never even had in class before know who you are and challenge you to perform at your best possible level.
Do you have any advice for prospective students considering Siena College, among others?
My advice for prospective students is to choose a college where you'll feel at home. Meet the students and professors, and ask as many questions as possible. These are the colleagues and mentors that you will spend the next four years of your life getting to know, and who will challenge you to not just grow academically, but to grow as an individual. For me, Siena College was the perfect fit.
Now, come meet Mary!