We know that when it comes to paying for college, there's no such thing as too many scholarships. That's why we're back with part two of this post, and with ten more unique scholarships that might fit your qualifications perfectly.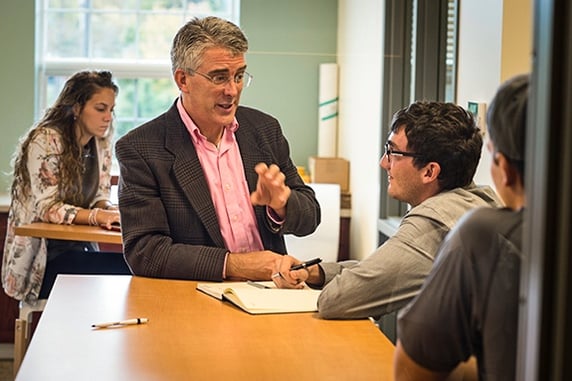 Deadline: May 1, 2016
Award: $1,500
Details: Open to all current high school and college students. Submit an essay of no more than 500 words on your commitment to volunteerism. (If you're a future Saint, this one should come easy.)
Deadline: May 18, 2016
Award: Up to $50,000 and exciting prizes
Details: Students around the world, ages 13-18, are encouraged to discover new ways to make the world better with science. Test out the Make Better Generator to come up with a project idea you'll love.
3. Clean Out Your Closet to Help the Planet
Deadline: May 31, 2016
Award: $5,000
Details: Collect 50 items of clothing you're willing to donate and recycle, then submit a picture of your items. You'll automatically be entered to win and you'll help keep tons of recyclable fabric out of landfills. It's time for a little spring cleaning anyway, right?
Deadline: May 31, 2016
Award: $5,000
Details: Take a picture of your pet (or any animal) and provide a thoughtful caption that shows how smoking affects animals' health.
5. Send Stress-Busting Tips to Your Friends
Deadline: May 31, 2016
Award: $2,000
Details: Everybody could use some help staying calm during finals. When you send our stress-relieving tips to three of your friends, you'll be entered for a chance to win. For every additional three friends you share our tips with, you'll earn another entry.
Deadline: May 31, 2016
Award: $2,500
Details: To be eligible, college-bound high school seniors must submit an essay of 500+ words on this topic: "Can a video game elicit an emotional response? What makes a game affect you on an emotional level?" (If this is right up your alley, check out Siena's Gaming Club.)
Deadline: May 31, 2016
Award: $1,500
Details: For students entering college no later than the fall of 2022, write a short online response explaining the importance of the number five. Serious or funny responses welcome. *High five*
Deadline: June 1, 2016
Award: Up to $10,000
Details: Choose your favorite prints and colors of Duck® brand duct tape to create your (couples or solo) prom attire. Then, submit up to five photos with a brief description. From June 15 to July 6, your job is to share the link and get your friends to vote. (See photos from past winners.)
Deadline: June 30, 2016
Award: $1,000
Details: Applicants should be high school juniors, seniors, undergraduates or graduate students with a demonstrated commitment to heritage, community and society. Submit a personal statement, short essay and letters of recommendation to be considered.
10. Delete Cyberbullying Scholarship
Deadline: June 30, 2016
Award: $1,000
Details: The Delete Cyberbullying project educates parents and teens about the dangers of cyberbullying. To join the cause, write a short essay answering one of these two questions: "Why is it important to work to delete cyberbullying?" or "How has cyberbullying personally affected you?"
Did you know that choosing a small, private, liberal arts college could save you even more money? Download our new infographic to find out how.