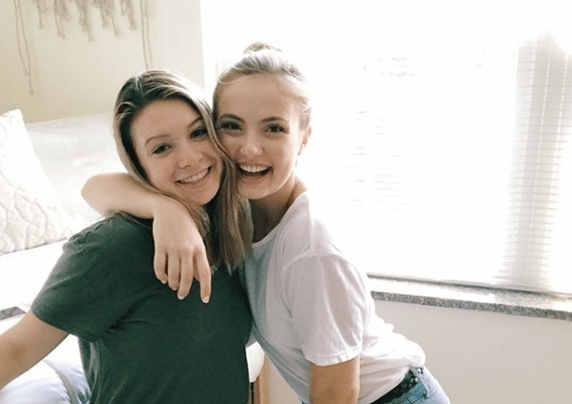 (Courtney, left, and her roommate.)
Siena student Courtney Baldwin has always been "the healthy friend," she says. Though she had always been an athlete, she realized she was unhappy playing sports.
"I realized that sports weren't for me," Baldwin says. So she stopped playing field hockey "and immediately found happiness." She discovered foods that fueled her body and found people who motivated her to do better in school and at the gym.
She started an Instagram account to document her healthy habits and now heads an active community of college students who want to live healthy.
We asked her a few questions about her Insta.
When and why did you start an Insta account devoted to healthy living?
Back in high school I ran the Instagram I have now, with a completely different name: fieldhockeyfitness. It wasn't until my sophomore year of college that I actually went back on it and started posting. I was inspired by a good friend of mine and am so happy that she got me back into it. The reason I returned to the account is because I wanted to not only hold myself accountable but also help others with balancing nutrition in fitness as a college student.
What would you say is the hardest part of staying fit and healthy at college?
For me, the hardest part about staying fit and healthy at college is when your friends are snacking late at night. From pizza to quesadillas and mozzarella sticks, it's hard to pass up. One of the biggest lessons I've learned on my health journey is that it is okay to splurge once in a while. Yes, I've eaten french fries and fried chicken recently because I can and it made me happy in the moment, but hey, I know I'll hit the gym the next day and go back to a typical day of eating!
How has being a student at Siena shaped your approach to health and fitness?
As a Siena College student, my approach to health and fitness has been pretty successful. Luckily, the gym is a close walk from my dorm room. I find myself waking up around 6 a.m. to get a headstart on the day, instead of working out when I know I should be studying. The reason behind this motivation is the Siena College community. When I'm on campus, I feel like I am at home, even though home is four hours away. Everyone is so inspiring, especially my professors and friends. If it weren't for them, I think waking up at the crack of dawn would be pretty dreadful and difficult. On the other hand, the dining hall has perfect options for balancing a healthy diet.
How did you end up with so many followers?
So many followers you say? I try not to focus on that. To me, what's most important is making a difference in other people's lives and actually being able to reach out to them and have a typical conversation. My follower count might have grown from taking the time to message and comment on posts of people who have similar interests as mine. Also, I am blessed that I have friends and family who support and follow my account.
What's the hardest part of maintaining your account?
Spending endless hours in front of a phone screen. I seem to contradict myself: I'm studying digital marketing but being on social media in my free time is not what I always enjoy doing. I'm the girl in the family who tells everyone to put their phones away at dinner, asks to go for walks and hikes instead of watching TV, and aspires to travel in her free time.
What do you want to do next with your account?
That's a great question. I love my account because I've learned a lot about social media marketing that could help me in the future. I hope that this account can one day lead me to work as a marketing manager in a health food department. Along with that, I would also love to work with different companies and help market their products.
Check out more of Courtney's Instagram here! Interested in our marketing major yourself? Click below for more information!