You showed it off in the obligatory pre-prom pics, twirled it around to an Ed Sheeran song or two and had a blast wearing it. But now that prom has come and gone, why not give your dress a new home? Recently, the Sister Thea Bowman Center for Women at Siena teamed up with an alum at Parsons Child and Family Center and hosted an event that collected all kinds of donations—prom dresses, bags, jewelry, shoes—to help financially disadvantaged high school girls get ready for their proms. It was a huge success, and we can't wait to do it again next year.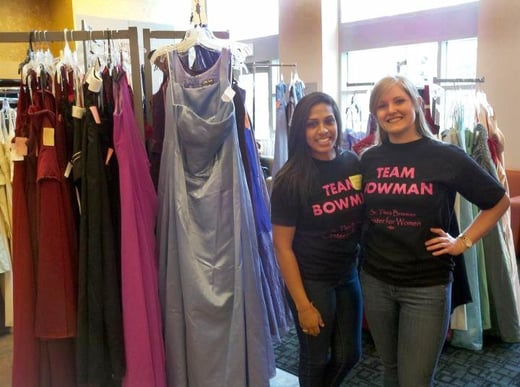 Want to do something with your gown? If you haven't already donated your dress somewhere, you could...
Spearhead your own dress drive. Corral your girlfriends and pick a date for a dress drive, then advertise it on your social accounts and any local papers you can to make sure your peers and other local high schools know about it. Your high school may even be open to allowing you to use the gym for your venue; call and ask!
Donate to a national organization. Add Operation Prom to your bookmarks bar, and stay tuned for upcoming donation dates. The nationally recognized not-for-profit organization is sponsored by companies like Bloomingdale's, Dress Barn, Men's Wearhouse and Adrianna Papell, and has chapters all over the country.
Give it a new purpose. Make a list of local charities or community theatre clubs and start calling around to find out if any of them could use your dress in another capacity...like for an upcoming free play in the park that could still use a few fancy wardrobe changes.
Hang on it to for now. Lots of local dress donation initiatives will pop up again in the fall and spring. Run a search online to find a few in your area. If you're within driving distance of Siena (high school juniors!) or will be a Saint next spring right here on campus (high school grads!), look for information on our ours. We'd love to see you there.

Really into volunteer opportunities and giving back to the community? See what else we like to do here.