Here's something to add to your criteria list as you narrow down your college selections: look in areas brimming with job opportunities. If you decide to stay put after graduation, you'll want to know that job openings are plentiful, that the economy is healthy and that there's a breadth of positions available. If Siena College is on your list, smart decision. Three reasons why…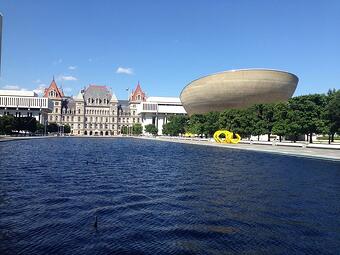 The Capital Region is a "bright spot" in the upstate economy: That's what the president and CEO of the Federal Reserve Bank of New York William Dudley called the area in a recent speech he gave at RPI. According to the Times Union article covering the story, Dudley said that while the economies of Syracuse, Utica, Binghamton and Elmira continue to struggle in the wake of the recession, the Capital Region has recovered nearly all the jobs lost during that recession despite job cutbacks in the public sector. In fact, the manufacturing sector has outperformed the nation!
Now's a great time to be looking for work around here: The Labor Department recently reported that the total number of jobs in the Capital Region is up 4,700 from a year ago. Which sectors added jobs? The leisure and hospitality sector; educational services and the health care and social assistance category; professional and business services; professional, scientific and technical services; and the construction/mining sector all added jobs.
There are opportunities of all kinds: GlobalFoundries, the world's first full-service semiconductor foundry, is hiring. Startups are popping up all over. Troy's "vibrant center" is thriving. We're the state capital, "Tech Valley," and home to one heck of a strong Siena alumni network. And we're ready to help you prepare for your career with real world experiences and practical learning opportunities.
Considering going into business? Check this out.