Whenever our alumni come to town to talk about their roads to success, Siena students are all ears—eager to hear how they made it to the top. One of our recent special visits was no exception, especially because this specific alum happens to be an upstate NY native and is currently a leader at a major company; one that she actually started interning for during her Siena days! Meet Kate Gutmann '90.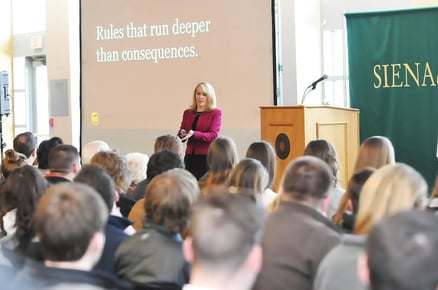 Her role at UPS: As the Senior Vice President of Worldwide Sales and Solutions at UPS, one of the world's largest and most famous shipping and delivery companies, Kate oversees the global sales, solutions and customer engagement strategy. She connects with various parts of the world before she has her first cup of tea. "I started today on a call with Europe, then Asia, drove through Starbucks and began U.S. interactions all by 7:30 (a.m.)," she told Siena.
How it all started: During her senior year at Siena, where she was a marketing management major, Kate sifted through potential internships with the help of Dr. Dick Johnson, who ran the internship progam at the time. Ultimately, she applied to UPS and landed a marketing internship at the Albany offices. "The world of opportunity opened up to me, and Dr. Johnson helped me to understand that."
What happened next: Her internship turned into a full-time job, and over the years, Kate rose through the ranks at UPS and became a company leader. She says Siena College launched her career by giving her a strong academic base. "The macro and micro economics classes gave me a foundation that helped me participate in global trade beginning in the mid 1990s and continuing from there," she said. "Siena attracts people who want to focus on building a solid academic understanding and then are determined to contribute to business."
Kate's advice for ambitious students: "Always know your prorities and then be true to them. You'll be amazed at what you can accomplish. And I'd also say be open to opportunity. Had you asked me back when I was at Siena if I thought I'd move seven times and work throughout the world, I would have said probably not because my whole family was still here in town. But I said yes to the opportunities and with that came complexity, growth and development. And I've never looked back. So say yes!"
Read on about Kate's visit here, or find out if Siena's business offerings are right for you. You could be next!