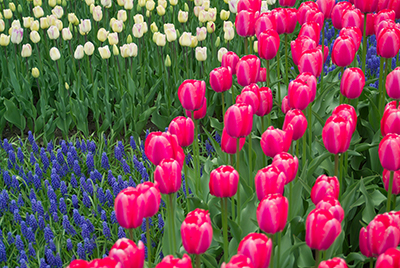 Spring is finally here and we're welcoming it to the Capital Region with open arms. If you're as excited as we are for warmer weather, sunshine and green grass, browse the list below to see some of our students' favorite things about spring in the area.
The Crossings. Our grounds are perfect for all things al fresco, but if you ever feel like getting off campus: head to one of The Crossings' picnic areas, bring your books for a sun-soaked study session or go for a jog through the shaded trails. The park is an awesome place to spend a sunny afternoon—and it won't cost you a thing.
Saratoga Springs. Siena's campus is just a short drive away from historic Saratoga, where there's plenty for our students to do (even when it's not racing season at the track). See what's on the shelves at Northshire Bookstore, grab a bite at Druthers and window shop along Broadway.
Eateries. Albany, Troy, Clifton Park and all the towns that surround Siena offer tons of great dining options year-round, but our students get exceptionally excited about the ones that open up when they need it most—right around finals week! Country Drive-In or Jumpin' Jacks's Drive-In, both known for their burgers and fish fry sandwiches, are must-visits.
Ice Cream. As a student in upstate New York, you'll come to realize this very fast: we love our ice cream. (And mini golf courses...there are a lot of those, too!) Try Kurver Kreme for some of the best soft-serve you've ever had. (It was even voted No. 10 on the list of 50 Great College Town Ice Cream Shops!) Or, for a historically delicious milkshake any time of year, visit a Stewart's Shops location. You're not an upstate New Yorker until you know Stewart's!
Tulip Fest. Finally, for students who stick around past finals week (or if you're planning an early May visit), head to Washington Park to sample food from vendors, enjoy live musical performances and, of course, see over 100,000 tulip bulbs blossom at the 67th annual Tulip Fest. What better way to get hyped for the season?
Out of all the things we listed above, our favorite springtime perks are seeing our students play frisbee, catch some rays and hang out with friends out on Siena Beach. Come see for yourself.