Like we said last month, we're continually impressed with where our graduates end up and the accomplishments they're achieving. And because it's important for you to know where Siena alumni go, we'll keep writing about them here. This month, we chatted with Toby Sorge '06, who was recently selected as a Master Teacher through the Master Teaching Project.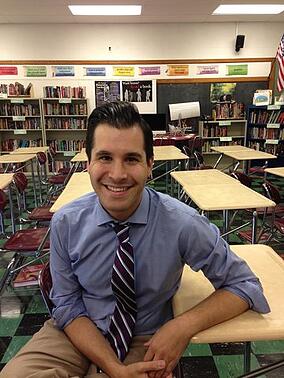 Before we get into our conversation, here is a little about him and his new adventure: Toby teaches eighth-grade language arts at the Demarest Middle School in Demarest, N.J. After an application and interview process, he was one of several teachers in the U.S. to be chosen to be a Master Teacher in the Master Teacher Project—which is sponsored by the National Education Association and run by BetterLesson.com. In his new role, he'll develop and share lessons—and serve as a role model—for his colleagues across the nation. It's an honor for any educator, and Toby credits his alma mater for helping to shape his teaching style. (Music to our ears!) Now for the Q&A…
How did you come to make your decision on Siena?
It was actually the only school I applied to. I heard about Siena from one of my teachers in high school when I was a junior, so I looked it up. I liked that it was a small college, and that it was far enough away from where I lived (northern New Jersey) so that I was able to go out in the world, but it was still close enough where if I really needed to I could get home quickly.
Eventually, I applied Early Action, figuring I'd get an application out of the way and then work on others. But after I found out at end of October that I was accepted, my guidance counselor asked if this was my first choice—saying why bother take the SAT again and apply to other schools if it was? So I said you're right! I knew it was where I wanted to go as soon as I visited. I just knew when I got there, that was where I wanted to spend the next four years.
Do you remember what it was that you connected with, that let you know right away that Siena was the right place for you?
Everything about the campus felt like a home. I felt a sense of community there without even knowing anyone. As I walked through the different buildings on the gorgeous campus and saw students interact with each other, I just felt…this is where I want to be. And although it's a small school, I did not feel like it would be limiting. I think some small colleges can run the risk of not being able to offer a lot to students, but I never felt that way about Siena.
Did you come into Siena declared as English education major?
No, I actually declared as an English major, and only because I like to read! After my freshman year, I took my first education class, Issues in Contemporary Education—and found my calling. Through that class, I was able to figure out that I wanted to work with children and I wanted to teach. I realized that not only did I want to read, but I also wanted to share that with others.
How did Siena prepare you for grad school?
I would say it put me on the right track to learn how to think and analyze independently. And everyone at Siena really helped me figure out what I want to do and how I can do it. At the end of my senior year, I did an independent study, and that work in particular really put me on the track for a lot of the work I would be doing in my graduate program.
Anything else to add that prospective students might want to know?
What makes Siena work well is the relationships students can have not just with each other, but with professors, administration and residence life, as well. I am incredibly grateful for so many of the professors that I had at Siena. They were mentors, they were confidants, they were guides.
Want to see what Toby's talking about firsthand? Schedule a visit to Siena soon.