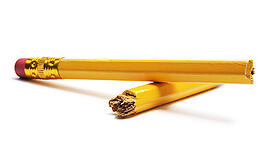 Still haven't completed your college application essay and feeling really…stumped? There's nothing worse than staring at a blank computer screen, knowing your deadline is fast approaching. But don't let a case of writer's block deter you from getting your applications in on time. Here's our latest roundup of quick tips, this time from people who write for a living (or have to write a lot), to help you get over your loss of words and start typing.
"Sometimes, speaking your ideas into a tape recorder will help you catch
 spontaneity and deep feeling. Avoid being pompous or trying to be too
 clever. Be natural." – Jayme Stewart, author of How to Get into the College of Your Choice: And How to Finance It and Director of College Guidance at York Prep
"A great tip for students struggling with writer's block is to turn to their friends and family to ask for stories that capture the essence of who they are and what makes them uniquely them. They should then decide which story best captures the positive attributes they want to convey to colleges and try using that story as the basis for their essay." – Robert Kohen, college admissions essay consultant and director of Kohen Educational Services
"I've found that hitting a brick wall when I'm writing is my mind's way of telling me it's done working for the moment. So I walk away, sometimes for an hour or two, sometimes for a few days. When I return I always have a clearer picture of what I want to say. However long it takes, spend time not even thinking about what you wrote. Get distracted, get lost. Come back like a pitcher on five days' rest—ready to play ball." – Brandon Peach, content strategist, EZSolution
"Move your fingers. One of the most painful pieces of the writing process is just starting. When I'm running a small group writing seminar I always start out telling attendees to do a two-minute drill. Don't think about what you're writing, just move your pen as fast as you can on the page without stopping. Write the same word a hundred times if you need to. Just stop trying to edit yourself in any way and let the stupid out. It's surprising how quickly your mind will switch over into a flow state when you're not overly critical of yourself." – Drew Farnsworth, small business owner and award-winning fiction author
"My secret: I read all the time. I read a variety of writers and outlets; news, novels, opinion pieces, self help, educational materials. Inspiration is key to loosing those creative juices. Everyone can take time to read for at least 15 minutes a day." – Tiffany Shortridge, public relations coordinator at Seventh Point
More tips on writing your essay can be found right here.