Here at Siena, we like to stay busy between academic years, and 2017 is no different. We've got sports, academics, a new telescope(!), and a gym we're overhauling. Here's the lowdown on what's happening this summer, should you decide to come for a visit or campus tour: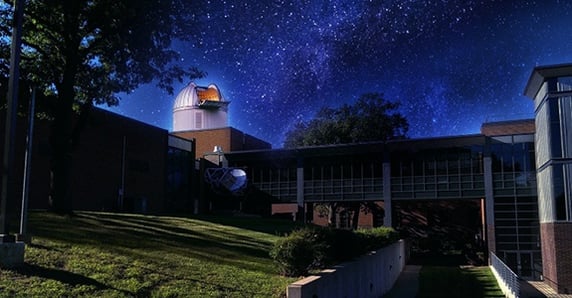 We're building an observatory.
In July, we're starting construction on a brand new observatory on the roof of the main School of Science building, Roger Bacon Hall. It will house the largest telescope in the Capital District, which, come on, is pretty amazing. Through it you'll be able to see Saturn's rings and Jupiter's moons, and it'll track near-Earth asteroids.
We're giving our fitness centers a gigantic makeover.
Our Alumni Recreation Center and Marcelle Athletic Complex are undergoing a $13.5 million renovation, scheduled to be complete in the fall of 2018. And we couldn't be more ecstatic about the new facilities. So this summer, you'll see a lot of construction. (
Which remember, is a great thing to see on college campuses
.)
We're hosting the Special Olympics.
We're honored to be hosting, along with a few other local venues, the Special Olympics New York State Summer games for the next two summers. The games start on June 17 and all Special Olympics events are free and open to the public. This is the first time in a decade the games have been hosted in the Capital Region, so take advantage and come cheer with us for these incredible athletes.
(CURCA) is available to all students, and over 100 are teaming up with faculty and classmates to study topics ranging from the formation of galaxies to female presidents in Eastern Europe. CURCA provides Saints the opportunity to engage in hands-on research using state of-the-art equipment and technology as early as freshman year! Meanwhile, the Stack Center for Innovation and Entrepreneurship is bustling with activity as students work to bring the next great idea to market.
We're camping (sort of).
We've got sports. We've got smarts. Our
athletics and academics camps
—many staffed by Siena faculty—entertain and educate local young people every summer. As always with Siena and what we offer, there's something here for everyone.
That's what we're up to this summer! We hope you'll swing by and say hello.