If there's one thing we love about life in the Northeast, it's the four seasons. Which, obviously, means winter must come. But we're here to tell you those few months of colder days aren't only bearable...they're actually a lot of fun for college students. Check out these five reasons why we love this time of year in Upstate New York: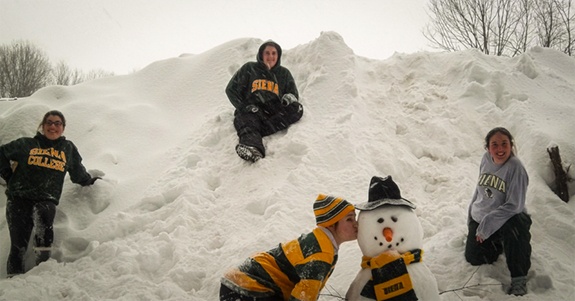 1. The outdoor activity. From downhill skiing to snowboarding, there's a lot to do on the nearby slopes (like at Hunter Mountain, for example, just a little more than an hour away from Siena). If you're looking for something a little calmer, take a casual hike at Thatcher State Park or snowshoe its gorgeous trails. There's also the Empire State Plaza Ice Rink, which is open through March and has free ice skating.
2. ...And the indoor activity. Remember those hot summer days when you felt guilty every time you wanted to do something inside? Now's the time to do them. The Capital Region has plenty of things to do inside that will keep you active (and warm). There's Guptill's (the largest indoor rollerskating rink in the world), trampoline parks (like Sky Zone) and very cool indoor rock climbing gyms.
3. The holiday festivities. Ever wish you could step back in time during the holidays? You'd love Troy's Victorian Stroll, which transforms Troy (a cool nearby city) into a Victorian wonderland with shopping, performances and food vendors. Saratoga, about 30 minutes north, does the same thing with their Victorian Streetwalk. Our area's holiday decorations are also top-notch—Washington Park's drive-thru Lights in the Park has more than 125 light displays.
4. The attitude around here. Volunteer opportunities abound here during the winter, and as cheesy as it may sound, we love how our surrounding communities are so into giving and service this time of year. Our students love helping out with Equinox (a big annual Thanksgiving Day community dinner) and signing up for various activities through volunteermatch.org.
5. The beauty of it all. There's a serenity about winter that is truly one-of-a-kind—the silence as the snow falls, its beautiful white blanket covering our campus. Sure, some days you may have to drive a little slower or bundle up a bit more, but winter is the best time to reflect and appreciate the solitude. And remember: you're never too old to make a snowman.
Ready to brave the cold with us? Visit our campus and see for yourself how beautiful it is in wintertime.