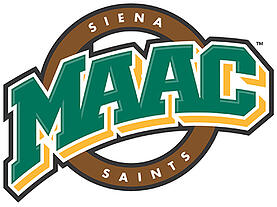 We've written about the perks of going to school in the Capital Region before (great job opportunities, awesome restaurants, cool landmarks). But if you need an added bonus, we've got an idea to bounce off you.
This March, the Metro Atlantic Athletic Conference (MAAC) basketball tournament will return to Albany's Times Union Center for the first time since 2010. That's right, the Times Union Center—also home to our Siena Saints! Fun fact: The last time the MAAC tournament was held in Albany (2008-2010), Siena took the championship title and secured a bid to the NCAA tournament all three years. (Watch the clip below!)
After bringing in a record 53,569 fans in 2010, school presidents unanimously agreed to move the tournament from Springfield, Mass. back to Albany for the 2015-2017 seasons. We couldn't be more excited to have all this action essentially in our backyard.
So, what do you say? Why not become a Siena Saint and get that much closer to the action? Enroll at Siena! (And for more information on the MAAC tourney, see here.)