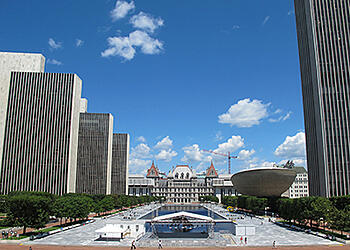 The American Institute for Economic Research (AIER) compiled and compared data on student life, culture, economic health and other factors across the country and came up with a list of the top 20 small metros for college students in the U.S. Number 11 on that list: (ding ding ding) Albany-Schenectady-Troy, NY. (We all play together.)
What makes our neck of the woods, specifically, so great for Siena students? The AIER looked at 12 criteria that they say enrich a college learning experience, including: city accessibility; arts & leisure; international students; innovation producers; entrepreneurial activity; earning potential and others. You can see their full findings here, but in the meantime here are a few reasons why we love our area.
1. The cultural opportunities. There's the New York State Museum, the Albany Institute of History and Art, cool exhibitions and events of all kinds that celebrate different parts of the world and different interests.
2. The traditions. Students are always looking forward to yearly local events like Tulip Fest, LarkFEST, Lights in the Park, and if they're around in the summertime, Alive at Five—when bands from all over take the stage in Albany for weekly outdoor concerts.
3. The access. We're this close to Saratoga Springs (ranked the happiest city in New York), a couple hours from Boston and New York City, and we can get to Philly or Montreal in just a few hours.
4. The restaurants. When students want to dine out (with or sans their parents), delish and affordable eateries abound. Some are within walking distance right from our campus.
5. The job opportunities. From startups to big time companies, the Capital Region's job market is healthy and thriving.
See what it's like for yourself to live, study, and enjoy life in upstate New York. Start your application today.