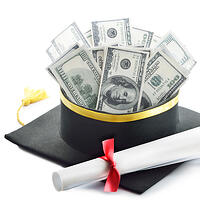 A question we often hear among undeclared students who are trying to decide on a major revolves around which degrees will inevitably lead to the best salaries. It's no secret that this generation of students is surrounded by talk of money. They read about people their age or slightly older who are earning generous incomes, and they want to put themselves on a trajectory that will lead them to that as well. Can you blame them?
While Siena encourages students to explore and study what they're really passionate about—and then find a way to put that to good use in the working world (which we can help with)—we do find it interesting when a study or infographic comes out that shows which degrees are currently the most lucrative. And that's exactly what this one from CareerCast.com shows. And we're happy to say that some of the highest earning majors of 2014 are ones we offer right here at Siena. Here they are, with average career salaries:
ACTUARY
o Actuary: $93,680
BUSINESS
o Corporate Executive: $101,650
o Economist: $91,860
o Management Consultant: $78,600
o Logistician: $72,780
CHEMISTRY
o Chemist: $72,350
o Pharmacist: $116,670
Any of those intrigue you? Learn more about the majors we offer.