To give prospective students who are interested in enrolling as undecided a better idea of what it's like to explore majors at Siena, we rounded up a few students who did just that and hosted an online live chat with them. Missed it? No problem. We've got the replay!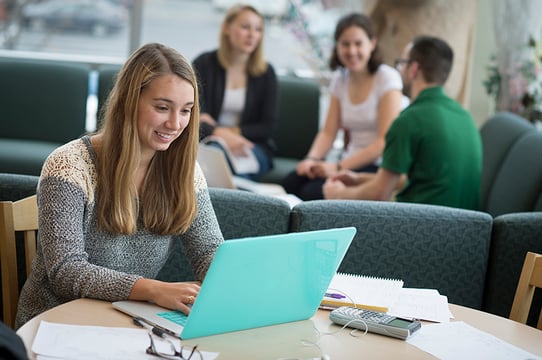 Here's the lowdown. The three students included Caroline Bertholf '15, who went from undecided business to a double major in Spanish and economics; Tara Friel '15, who went from undecided science to a major in biology and a minor in environmental studies; and Andrew LaGreca '16, who went from undecided liberal arts to a major in psychology. Dr. Peter Ellard, Associate VP for Academic Affairs, Student Success and Retention hosted the chat, which you can watch right here.

They answered questions that students submitted virtually, like these below, and talked about their experiences overall at Siena College. Here's a glimpse:
Q. Can I declare a minor when I'm still undecided on a major?
A. Yes, you can come here undeclared and then choose a minor or two!
Q. How many students come in undeclared?
A. It depends on the school, but it's about 38 percent that start out undeclared in our class of 750 or so. But of those who are declared, half of them change their mind. So most students are undeclared or changing their mind!
Q. Is it possible to graduate in less than four years if you start out undeclared, especially if you have college credits coming in from high school?
A. Yes, I came in with a lot of college credits, so I could've been done last year—but I loved it so much, I didn't want to leave this place! But yes, Siena is really amazing about looking at the classes you've taken, whether they be AP or college, and really looking at what they fulfill. If you've done the work, Siena wants to reward you with that if possible.
Q. How large can class size be in the core?
A. In our freshmen seminar, the largest is 19. In terms of the rest of the core, I think the largest class right now is 30; there might be some with 32. And that's it. We don't have classrooms that'll seat 40 or 50 people. That's one of the big differences between going to a state school and going to Siena. You could be in classes at a state school with 200 other people.
Intrigued? There's a lot more where those came from! Watch the full replay now. If you've got any questions that weren't answered, contact us whenever you have a free moment.