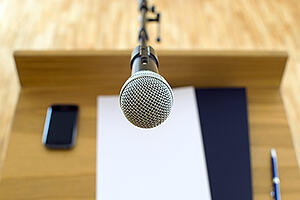 This past month, the deans of our three schools stepped up to the mic and hosted live chats with current students and alums to answer questions from prospective students like you. They responded to all kinds of digitally submitted inquiries, like… "Is there a class size cap and are classes taught by professors or TAs?" "What do you do if you know what profession in science you want, but you're not exactly strong in science?" "How are advisors assigned and do students generally keep them for all four years?"
Didn't make it to the ones you wanted to see? Here they are below.

LIBERAL ARTS
Featuring…
Dr. Janet Shideler, Dean of the School of Liberal Arts
Jessica Budinich '15, Psychology and Creative Arts Double Major
Tim Hannigan '08, Political Science Major, Hannigan Law Firm
Watch here

SCIENCE
Featuring…
Allan Weatherwax, Dean of the School of Science
Christina Nevin '15, Biochemistry Major
Nick Connelly '09, Section Manager at GlobalFoundries
Watch here

BUSINESS
Featuring…
Dr. Chuck Seifert, Dean of the School of Business
Megan Brousseau '15, Marketing Major with Minor in Multimedia Studies
Terence Holden '12 and '13 (MS Degree), PricewaterhouseCoopers
Watch here

The next live chat is December 10 at 7 p.m. and the topic is financial aid. Want a reminder?