You've likely noticed that many schools you're researching list several application deadlines, which may lead you to wonder: Should I apply Early Decision, Early Action or Regular Admissions? Here's what you need to know about all three.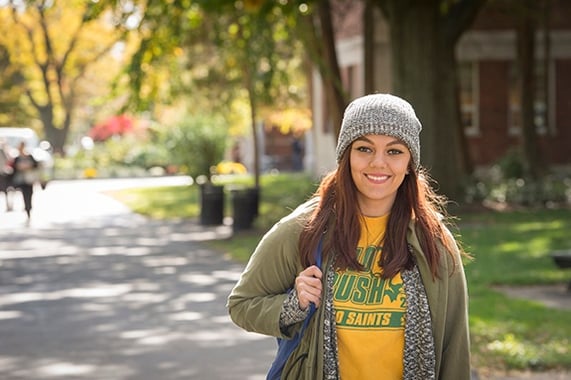 While many of the following details are specific to Siena, a lot of the information is likely the case with other schools on your list, too (just be sure to check!).
Early Decision (ED)
Siena's deadline: December 1
What it means: You've chosen to apply to just your top pick, and you've committed to enrolling should you get accepted. That's why ED is called "binding."
Is it right for you? Since you're essentially agreeing to attend if you get accepted, you should be sure that the school you're applying to is truly right for you—especially from a financial standpoint, since you may not receive your aid package until afterward. That's why research is key when it comes to ED.
Also good to know: Applying ED shows the admissions team how dedicated you are to their school, and they'll keep that in mind in the review process. (So if your heart is set on that one school and your app is ready, go for it.)
Early Action (EA)
Siena's deadline: November 15
What it means: You're applying early for priority review, but it's non-binding. If you get in, you can still decide to go elsewhere. (And unlike with ED, you can apply to multiple schools EA.)
Is it right for you? We like to say that if you have your list together early enough and you already feel great about your application, applying EA is a no-brainer. Schools often look more favorably at EA applicants, like they do with ED, since it shows your level of interest. And if you do receive acceptances, getting good news earlier in your senior year is certainly a plus!
Also good to know: If you aren't immediately accepted (or on the flip side, rejected), there's a chance a school could give you feedback on your application—another benefit of getting it in early. At Siena, for instance, if someone were to apply EA and their app was not quite strong enough, but we knew they had potential, we'd engage in conversation with them. We may give them the opportunity to work on their grades or test scores, or invite them to visit or interview as a way to enhance their app towards an acceptance. In that case, we'd be hanging on to their app until we can make a more informed decision (something we're able to do, since it's not yet the end of their senior year.)
Regular Admissions (or Regular Decision)
Siena's deadline: February 15
What it means: You're applying by the regular deadline (not early), and it's non-binding.
Is it right for you? If you feel you need more time to research schools and/or perfect your application, go ahead and take the time to do so. There is nothing wrong with applying in the spring; everyone is on a different timeline.
Also good to know: Should you decide to wait, just be conscious that in some schools' cases, certain programs or majors may have time-sensitive deadlines that occur in the fall or popular majors may fill up quickly, making the competition in the spring that much more intense. In those cases, be sure to chat with your school counselor or the school itself to figure out which route is right for you.
Want to talk more about Siena's admissions process? We're all ears and happy to help.