Thinking about majoring in English but aren't sure "what you'd do with it?" It's a question we get asked often—by students and their parents—so we can tell that the idea of getting a degree in English makes some people nervous. But we say: Turn that hesitation into a deep breath, and then a sigh of relief. Haven't you heard? English majors are the hot new hires. Read on.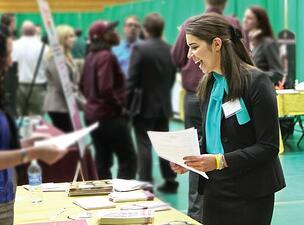 A much-discussed article published on the American Express OPEN FORUM blog dedicated to covering business, money and entrepreneurship made the argument that graduates with English degrees are increasingly sought after as job candidates. Author Bruna Martinuzzi pointed out that English degrees arm younger employees with strong writing and research skills, "cognitive empathy" and a finesse when communicating. These are skills that are beneficial in every profession.
While some degrees do provide more concrete career paths, the flexibility of an English major is also what makes it so attractive (and, with the right attitude, so marketable).
An English major could take you to:
…conferences around the country. Any company that has a product or service to sell or clients to court needs writers who can create strong sales materials and cohesive presentations for trade shows, conventions and in-person client pitches.
…virtually any Fortune 500 company. Big Four accounting firms, management consulting companies, household name consumer products manufacturers—you name it, they all need technical writers, proposal writers, marketers and public relations specialists. You could end up riding the same elevator at work as your friends who majored in business administration.
…the White House! Or to the office of another government official who needs a speechwriter to communicate his or her views in speeches, lectures, open letters, op-eds and commencement addresses.

….Hollywood! Of those who work in the entertainment industry (but bypassed film school), English is an overwhelmingly common college major among screenwriters, TV writers, producers and directors.
…the desk of your choosing. Build a career as a freelance writer, copywriter or novelist. Or consider careers in publishing to edit and perfect other writers' work.
…graduate school. If you decide you want to pursue higher-level degrees, an English background shows that you are a critical thinker, are well read, can make a reasoned argument and express yourself. Unlike students with a more narrowly focused path, English majors stand out when applying to law school, business school, medical school or competitive graduate programs in the humanities.

Now, ready to explore all the possible paths that an English degree experience at Siena can present to you? Start your first reading assignment.