If you've done your research on Siena, you might already know that our School of Science provides students with a strong foundation in the scientific method, theory, applicability and laboratory practice—taught by a community of professionals who share unparalleled passion for the field. If not, we're here to tell you all you need to know about the School of Science in one, fact-filled post. Read on.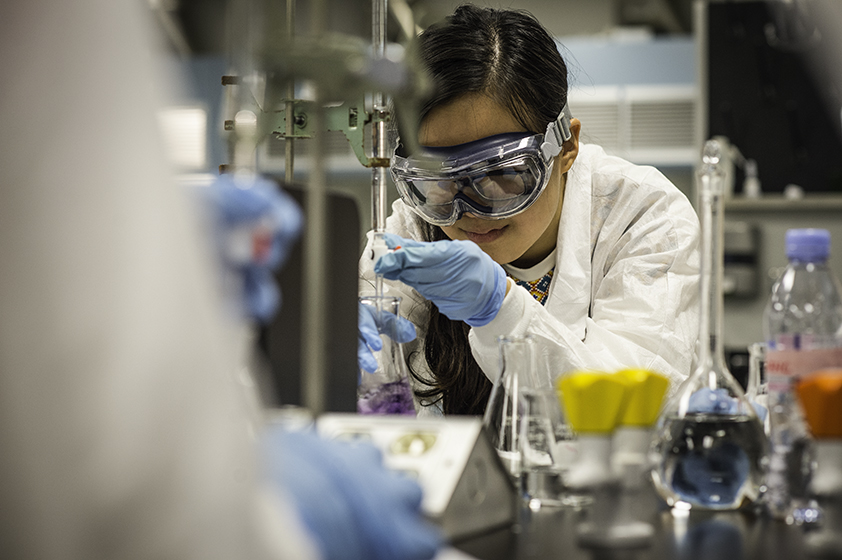 > There are six departments to choose from in the School of Science (biology, chemistry and biochemistry, computer science, environmental studies and sciences, mathematics, physics and astronomy). Each offers at least one special program or focus.
> Stewart's Advanced Instrumentation and Technology (SAInT) Center gives our School of Science students access to the latest technologies in instrumentation. The instruments our students learn with include a Bruker AVANCE HD 500 MHz NMR Spectrometer, an Agilent 1890 High Performance Liquid Chromatograph (HPLC), TA Instruments nano Isothermal Titration Calorimeter (ITC), a Hitachi SU1510 Scanning Electron Microscope (SEM) and more.
> Our students participate in various undergraduate research projects—that reap big rewards.
> Wondering what you can do with a mathematics degree? Our students have ended up in almost every industry, including telecommunications, education, banking and finance, healthcare, technology, aerospace and manufacturing.
> Each year, nearly 350 students are trained through the High Performance Computing Center (HPCC). Since its start two years ago, the Center has completed over 100 years of calculations. WOW!
> Our faculty members conduct their own research—some of which is published in academic journals. (Meg Fryling, assistant professor of computer science, recently had her work published in the Journal of Information Technology Case and Application Research.)
> This year, a student from the School of Science became the first at Siena to receive a Google internship. She is one of only 15 undergrads chosen to participate in the summer internship!
> The Dean of the School of Science, Allan Weatherwax, doubles as a professor of physics and is internationally recognized for his research in space plasma physics, geophysics and space weather. Here's what he has to say about teaching: "I look to be at the forefront of teaching innovation, employing technology and proven, best practices for science education. Outside the classroom, I routinely take students to field sites such as Greenland to conduct research, and always provide them with a chance to attend conferences to present their work. My students have literally traveled the world giving papers and talks from San Francisco to Madrid. I truly believe such meaningful student engagement can indeed change lives!"
> The School of Science receives support from well-known agencies like the National Science Foundation (NSF), NASA, the Research Corporation for Science Advancement and the National Institutes of Health (NIH).
> Students from the biology department have pursued careers that range from physician, dentist and pharmacist to laboratory technician and speech therapist.
Want to know more about the School of Science? Read about it here.