Is indecision over your intended major keeping you from finalizing your college applications? We hear that a lot. We also know that many students consider putting off attending a four-year college until they figure out what it is they want to study. To you and all of them, we say: read our guide!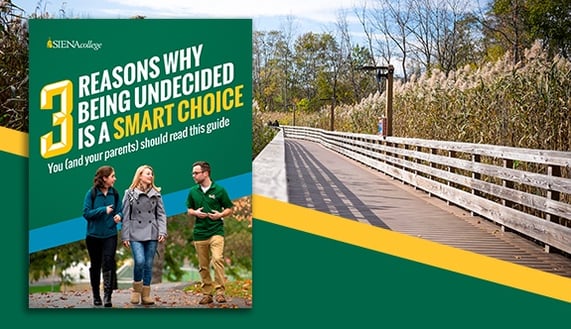 No matter which colleges are on your list, if you're on the fence about choosing a major, we invite you to download this free guide our admissions team put together. In 3 Reasons Why Being Undecided is a Smart Choice, you and your parents will learn everything you need to know about not immediately declaring a field of study. You'll find out:
What it really means to be undecided
Whether or not you can still graduate in four years
The benefits of being undecided that you wouldn't have if you declared right away
Who to contact for more information
We'll also tell you about what it's like to be undecided, or "exploring," at Siena College. (Spoiler alert: it's awesome.)
It's free to download and quick to read, so go ahead and take a look!