Feeling nervous about submitting your application? That's totally normal, but we're hoping to help by introducing you to three of our new admissions counselors. By putting a face to their names, you'll see that our admissions counselors are people, too—who happen to like home-baked potato chips, apple cider doughnuts and omelets.
Meet them here, then give them a warm welcome on your next campus visit!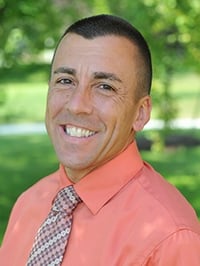 JIM EATON - Albany/Capital Region, Columbia County and Greene County
Degrees: B.A. Public Communications, The College of St. Rose / M.S. Guidance and Counseling, Sage Graduate School
Welcome home: As Dorothy in the Wizard of Oz said "There is no place like home," and the Siena community makes campus feel like a home away from home. It's the reason I've spent most of my career here.
Saints pride: Check out a men's basketball game at the Times Union Center. Go Saints!
Siena fresh: I love the home baked potato chips from Lonnstrom Dining Hall (hint: you'll find them next to the deli)!
On the go: I enjoy training for and running marathons, as well as spending time with my three daughters and wife.
ERIC GUZMAN '12 - Long Island, Dutchess County and Putnam County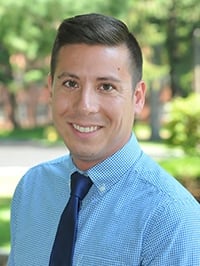 Degree: B.S. Marketing/Management, Management Concentration, Siena College
Saints in the community: Siena challenges students to be engaged in the classroom and in their communities. When students take advantage of these different learning opportunities, they shape their future for many years after graduation.
Take it all in: Stop by the Empire State Plaza - Grab a bite to eat and walk through on a sunny day, check out the free NYS Museum right on site, or take a trip up to the top level of the Corning Tower for breathtaking views of the Capital Region.
Fall in love: Apple cider doughnuts with cinnamon sugar are the most DELICIOUS treat!
Have your cake and eat it too: I love to cook, but more importantly, love to eat! You'll find me exploring the local restaurant scene, and then attempting to replicate my favorite meals at home. I run it off when volunteering as a youth soccer coach- always keeping busy!
SEAN MCDONALD '15 - Massachusetts, New Hampshire and New Jersey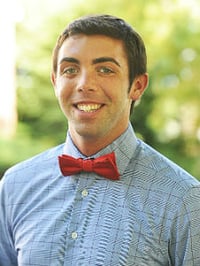 Degree: B.A. Political Science, Siena College
Making connections: One of my favorite things about Siena is the strong relationships that you are able to build with your professors and other school administrators. Some of my closest friends are administrators that I worked with on campus when I was a student.
Reflection and relaxation: The Grotto is a must see for anyone who is visiting Siena! It's such a peaceful getaway right here on campus. I love going to the Grotto to light a candle and reflect on whatever is happening in my life at the time.
Rise and shine: The omelets at the Lonnstrom Dining Hall are by far the best food on campus. There is a reason that there's always a long line in the morning! But, they are well worth the wait!
On the run: I love all types of exercise: running, going to the gym, swimming, etc. Fitness is an important part of my life and it keeps me sharp. I also enjoy spending time with my friends; we could be doing anything in the world and still manage to have a great time!

If Jim, Eric or Sean aren't in your region, find your counselor here.