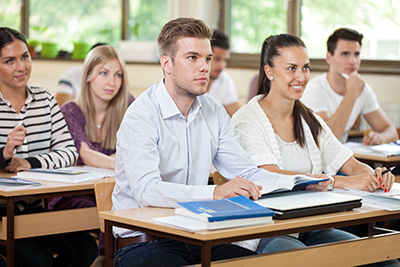 As you continue to research which colleges will best prepare you for a successful career, or as you deliberate majors, you might come across people or articles online who will try to derail you from choosing a path in the liberal arts. The collective advice from my knowledgeable team at Siena College, from employers we know and from graduates themselves is this: don't listen to them.
More and more, people in high places are speaking out in defense of liberal arts. From CEOs to columnists, entrepreneurs to recruiters and beyond, there's a movement happening to let students know that a liberal arts degree isn't just valuable, it's worth it. Here's what we want you to know about liberal arts:
A liberal arts school offers a lot of majors. It doesn't literally mean you'd only be studying art in your courses. Liberal arts is a term that describes a comprehensive education that provides a broad range of studies, such as humanities, social sciences, mathematics, natural sciences and the arts.
A liberal arts education prepares you for your career and your post-grad life. Yes, you'll be book smart, you'll study hard, you'll know more about your chosen interest than the next person. But enrolling in a liberal arts school gives you so much more. What you learn and how it's taught will equip you with critical thinking skills, teach you how to communicate effectively, mold you into an innovative leader in a knowledge-based economy, encourage you to be creative and prepare you to solve problems in all areas of your life.
Employers want liberal arts graduates. Read why top tech CEOS want employees with liberal arts degrees. And check out this survey. It revealed that 80 percent of employers agree that regardless of their major, every college student should acquire broad knowledge in the liberal arts and sciences. And guess what? A third of Fortune 500 CEOs have liberal arts degrees themselves.
Siena College's School of Liberal Arts is actually our largest and most diverse of our three schools. Specific departments include: American Studies, Creative Arts, Education, English, History, Modern Languages & Classics, Philosophy, Political Science, Psychology, Religious Studies, Social Work and Sociology.
Everywhere you look—from Twitter to CNN—people are defending the liberal arts. Run a search for "liberal arts" on Twitter, and you'll find tweets and links to all sorts of professionals promoting the liberal arts. Here's an example on CNN and one from Inc.com.
We could go on about this topic's significance, but the best way to see for yourself is to dive in. Apply to Siena College today to get your liberal arts education started. Your future self will thank you!