With the holidays behind us, it's time to focus on the new year. As a high school student who is ultimately college-bound, you've surely been told plenty of times that your college years are going to be some of the best of your life. But that doesn't mean that your time leading up to college can't be one for the books! Keeping in mind your academic goals, our admissions team thought up a few ways you could make 2016 your best year yet.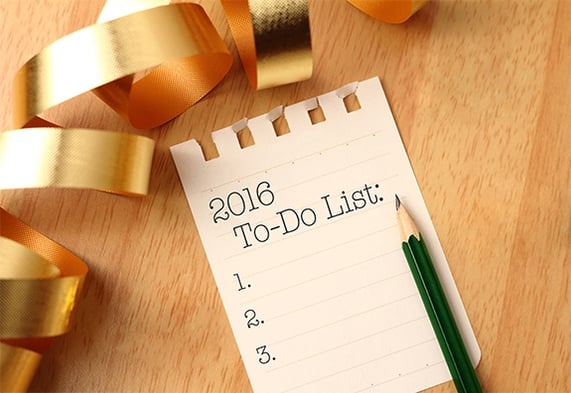 1. Do something that scares you. True phobias are nothing to mess with lightly, of course, but if you have a nagging fear that you eventually want to overcome, why not do it this year? Whether that means signing up for a trapeze class or submitting your short story to a literary contest, take at least one reasonable (and safe) step that will help you conquer your nerves. Not only will you feel incredible afterward, you may just find something to write about in your college essays.
2. Plan a few days that are all about YOU. Devote the entire day to caring for yourself from the moment you wake up to the minute you fall asleep. Eat healthy meals, exercise, learn something that interests you, listen to music that relaxes you, read insightful articles and unplug for a few hours. Ideally, we'd all be able to do this all the time, but with busy schedules like yours, setting aside full days here and there will make a realistic difference in nurturing your mind, body and soul.
3. Savor your time at home. Soon enough, you'll be living in dorms, traveling the world and spending all your time with friends. Before those days arrive, do yourself a favor and really enjoy living at home with your family. Ask your parents questions about their lives before kids over dinners you cook together, hold board game nights with your siblings and explore your hometown as if you were a tourist.
4. Learn something really well. We're talking about outside the classroom. In your free time, attend an extracurricular opportunity or even just tune in to a YouTube series that teaches you something—and stick with it until you're a pro. Calligraphy, sign language, Adobe InDesign, photography...anything that gives you joy and could possibly come in handy in the future. Turn to your parents, too. Is Dad exceptional at fly fishing? Tag along and learn how to cast! (And remember your new talent come college interview time.)
5. Be diligent about planning for the future. If you treat college planning like a hobby you're passionate about, and not an obligation, you'll enjoy it much more and be happy in the long run that you spent careful time on the process. Go on as many campus visits as you can, research schools, work on your list and go visit them again. Get excited, and have fun with it. (Our infographic can help!)
And on that last note, we hope you'll add visiting Siena College to your list. We'd love to hear how your 2016 is shaping up. Have a great one!