Want to know more about life at Siena as a D1 student-athlete? We sat down with one of our men's basketball players for a quick Q&A.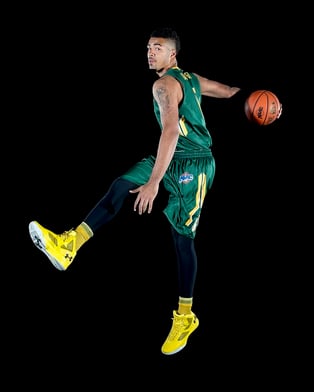 You may know him from his success on the Siena men's basketball team, but junior management major, Javion Ogunyemi, is making impressive moves off the court as well. Find out what we mean...
Clearly athletics is a big part of your Siena experience, but you are just a regular college student as well. What do you enjoy the most about Siena when you're off the court?
Javion: I like a lot of the professors that I have for my management classes. My classes are hard, but the professors are great. They let you know up front that the class is going to be difficult, but they do their best to make the work fun. I love to have fun and joke around, so I really enjoy it. I really started to like management my freshman year because to be a manager, in a way, is being a leader. That's how I try to be on the basketball court, so I figured that it would be translated over to the classroom.
Your Siena Saints athletic profile mentions that your favorite class was Jazz Dance!
Javion: (laughs) I took that class with a few of my teammates, but it was my idea! My whole thought process was that I had three difficult classes that semester so I wanted to take a class where I could have some fun. I figured that I'm a basketball player, so we know a lot about movement and being active. When it came to learning dance routines, I thought that it would be like running a play. It ended up being a little more difficult than I thought it would be!
Unlike many other teams in the MAAC Conference, our men's basketball team plays at a large arena (it can seat about 15,000 people!). How does it feel to walk out on to the Times Union Center court at a game?
Javion: It's a great feeling because we have a lot of fans, and there is always a big turnout. Seeing a lot of green and gold in the stands and hearing all of the cheering when you're playing is just awesome. A lot of schools in our conference don't get the type of crowd that we get at the Times Union Center. There's even a fan bus that travels to our away games!
From your freshman year to your sophomore year, you had incredible season average increases, and you've only gone up from there. How did you do it? (From his freshman to sophomore year, Javion's scoring average increased by 480%! And, he just received the 2015-2016 Dan Cunha Defensive Player Award and was named Doc Marcelle Team Co-MVP.)
Javion: I was really just getting adjusted to college in general. Coming into it my freshman year, I had a tough task because my mother passed right before the season started, so it took me a while to get adjusted. Jimmy Patsos (the men's basketball coach) is a great person and he cares more about us as people than he does about us as basketball players. He's always working to teach us, especially about things that are going on around the world.
Thanks for chatting with us, Javion.
Think you want to play—or root—for the Saints one day? Learn more about Siena athletics, or contact us for more information.