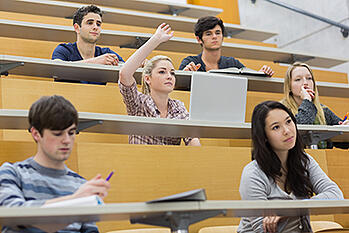 If you've been following our blog since the beginning, you know that Siena College wholeheartedly welcomes undeclared students. But for those of you who would rather enter college with an intended major or area of interest (or, if you're at that point in college when it's time to declare one, and you happen to be reading our blog), this post is for you. As you zero in on a concentration, keep these considerations in mind—to both help you decide and help you stress less about your choice.

It doesn't have to define your career. The biggest hesitation I hear from students who are deliberating majors centers on the belief that what they choose now will dictate the rest of their lives. They worry that there is no going back if they end up changing their minds. Well, get this: According to a CareerBuilder study that surveyed thousands of college-educated workers, one-third revealed that they don't work in occupations related to their college major. And yet 64 percent of employees say they're happy with their chosen degree. Yes, you're declaring your field of study now, but your career path will twist and turn based on networking, surprise opportunities and countless other factors.
Will I enjoy the classes? You want to make the most of your time (and dollars) spent at college. You should participate in real-world experiences, raise your hand in class, listen to visiting speakers and take on extracurricular projects. But to do all that, you have to enjoy what you're learning. Try not to choose a major based solely on what you think you should be studying, but on what you want to study and how you think it could help lead to a satisfying life after graduation.
You can switch. If the idea of declaring a major before college (or entering undeclared) still unnerves you, remember this: you can change your major before it's too late. Just be sure to ask for help with the process, and find out if you'll have enough time to complete the required courses of your new major.
You can double major, or minor, or get a certificate. Interested in more than one field of study? Make sure the colleges you're considering offer the opportunities to double major, pursue a minor, or enroll in a certificate program. As long as you have the energy and passion to accomplish some extra work, it's a great idea and one that will surely benefit you upon graduation. (And remember, you'll also want to hold several internships during college. That's another area where you can potentially explore topics outside of your major!)
What do you think you'd major in, if any, if you came to Siena? You can search for programs by field or study or career paths