Interested in attending Siena College? Want to learn more about our academics, our athletics, our lives here in upstate NY? Or maybe you were just Googling for some advice on applying to college, and you inadvertently stumbled upon our new admissions blog. Whatever your reason for visiting, we're happy you're here.
As the director of Enrollment Management Communications at Siena College in Loudonville, NY, a big part of my job is to help Siena find students who would be a great fit for our community—and to help those students find Siena. But, I also get to work with a lot of people who know a lot about the admissions process. Our goal for this blog is to share that knowledge with you. We're here to help you, your parents and anyone else researching colleges find the answers they're looking for.
To that end, this blog will feature posts from a lot of us here at Siena, covering all sorts of topics, including: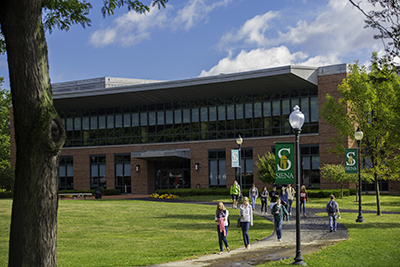 Valuable advice from our admissions team, on everything from how to nail your essay and application to what to look for on a campus tour

Information on academics, like what an English degree can do for you or what we offer here at Siena

Event updates, so you know when you can meet us or check out the campus

News and musings about life in the Capital Region

And much more
Our hope is that you'll find value in everything we post, regardless of where you're intending to apply. We love working in admissions for exactly this opportunity—to be a part of one of the most exciting times in a student's life…getting ready for college.
Let's get started!