In honor of International Women's Day on March 8, we decided to write a post about a growing industry that needs more women in leadership roles—and a fantastic department at Siena that wants more female students, too. Computer Science. Whether or not you're interested in it (maybe you know nothing about it yet, and that's okay!), read on. We chatted with MaryAnne Egan, Siena's Chair and Professor of Computer Science, about the workforce's need for more women and what we can do to #makeithappen.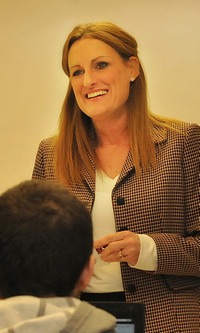 In terms of gender, what does the computer science field currently look like? Has it always been that way?
When I graduated in the 1980s, the computer science field was about 40 to 50 percent female. Since then, it has actually gone in the wrong direction. Today, the workforce is predominately male; less than 20 percent are women. There have been all sorts of studies as to why that could be, and many believe that a number of things have contributed to the decline.
What are a few examples?
Media portrayal, for starters. Back in the 80s when computer science was a brand new field, there were not yet preconceptions about it. But think about shows today like The Big Bang Theory and the stereotypical way computer scientists are portrayed…not very desirable. One of my classes examined about 120 movies, like Jurassic Park and Office Space, and we found very few that depict computer scientists in an attractive light—and very few are women.
Another contributor is the fact that, in most states including New York, computer science is not a recognized component that's required for high school graduation. So, very few schools offer it—especially if their budget has to be cut. (In fact, in New York, the computer science teachers at schools that do offer it aren't certified in computer science, because there is no certfication; many of them are certified for math, business or science.) Due to this lack of high school computer science classes, so many students aren't exposed to it before college—they don't know what it is, and if they do, it's what they've seen at the movies.
What does that mean for the computer science departments at colleges, like Siena?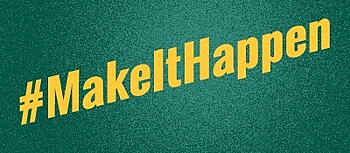 To put that into perspective, Siena's computer science department has only had one incoming female freshman over the last three years, but we average about 30 percent upon graduation. The national average is about 11 or 12 percent. And we're only starting from one. Can you imagine if we started with more? To help grow our department, we make sure the introductory class is staffed with some of our best full-time tenure track faculty. For a lot of students, that's their first exposure to computer science—so we make sure it's a good one.
Why is important for more women especially to break into computer science?
In addition to it being such a marketable skill, knowing computer science can lead to a very lucrative career path and opportunities to work from home and set your own hours. But on top of that, we need women's voices to be heard! We're missing a whole group of people who could have valuable input in the development of products, software and hardware. Studies show that mixed gender teams perform better. Companies that have mixed gender boards perform better. (Take Dragon, the speech recognition software. When it was first developed, it didn't easily recognize women's voices.)
And plus, what I think is really, really cool…the first computer programmer back in the 1800s—before computers even existed—was a woman. She wrote what are considered the first programs.
Tell us more about your department. What would you want prospective students to know?
Every year, we bring a large group of our female students to a big conference called the Grace Hopper Celebration of Women in Computing. It brings together different companies and people from all over the world, and our students get to hear amazing speakers. And actually, at this past one, one of my students met some Google recruiters—and ultimately landed an internship at Google. (You can read about that here.)
Prospective students should also know that alumni watch out for each other. I've gotten at least three emails in the last three weeks from recent female grads encouraging current female students to apply for internships at their companies. We actually have so many more requests for interns than we have students! But that shows you that the jobs are there. Come graduation, nearly 100 percent of our students are employed.
Eager to jump in the field? Learn more about Siena's computer science department today.